One of the best meals to be had in New York City – and very often my first destination off the plane – is a $5 tray of steaming hot dumplings in Chinatown.
Xiao long bao – pronunciation shao (rhymes with now) lohng (long O like tone) bow (as in take a bow) – aren't your ordinary dumplings. They don't look different from your ordinary bite-sized dim sum treat, little packets in a bamboo steamer, but the secret is inside.
Also known as Shanghai soup dumplings, xiao long bao don't swim in soup, like won tons. Instead they do the neat trick of carrying soup inside the wrapper, the hot broth flavoring both the tender nugget of ground pork and the thin casing of dough tucked tight around to hold in every golden drop.
It's not an easy trick to get right, and few places do. To get the soup effect, broth is added during the dumpling making, or a bit of cooled gelled broth (the gelatin from broth made with bones makes the liquid a solid gel when cooled) that will melt into liquid during cooking.
Then you have to eat it within minutes of steaming, before the broth gets absorbed into the dough. A xiao long bao made right is ready to burst with meaty juice at the first careful nibble.
I'm back in New York City for a couple of days, celebrating a milestone birthday of our family friend Jenny from Ohio. I planned this quick trip (just an 80 minute flight from Ohio), coming off a fantastic first visit with the kids in April. But I think I came back for me as much as for Jenny, because in April I never got my xiao long bao fix.
Since the xiao long bao craze hit New York City in the late '90s – in 1999, the New York Times had a great cartoon-strip illustration of the proper eating technique to capture the broth in the without squirting hot broth or burning your mouth with steam – Joe's Shanghai, with locations in Chinatown and midtown Manhattan as well as Flushing, Queens, has become the go-to spot for locals and tourists.
But for my money – and I've had xiao long bao in Shanghai too – the best are at Shanghai Cafe, which somewhere along the way got a neon-uplighting upgrade from its Chinatown utilitarian decor and became Shanghai Cafe Deluxe.
Deluxe or not, $4.95 will still get you a round bamboo steamer with eight little doughy pouches of pure meaty, juicy gold ($6.95 if you want the pork-plus-crab version).
Xiao long bao are a specialty, not a sideline. At Shanghai Cafe, as in Shanghai, the people making the dumplings – rolling thin rounds of dough, assembling meat filling, folding it all together – are proudly featured in the front of the shop. The finished dumplings are stacked in bamboo trays and freshly steamed to order.
Shanghai Cafe has a crazy long menu with well over 150 items. No doubt most of these never get ordered; this is first and foremost a dumpling place. But they have a solid zha jiang mien, which you rarely see in Chinese restaurants here. Salty with a touch of sweet and spicy, meaty and comforting, this would be a perfect meal in one if you didn't need to eat xiao long bao too.
And for me, this deliciously green vegetable dish is a necessary companion to the meaty dumplings. I always send people to Shanghai Cafe to get it, and then I can never remember what it's actually called.
The dish may sound a little strange, but stay with me – I promise that everyone I've ever had try it loves it immediately. You'll recognize edamame here. Then we have chopped green vegetable, similar to Chinese broccoli or broccoli rabe. And finally what looks like noodles is actually a soy product with the unfortunate name of tofu skin but I'd rather you think of it as a protein-rich, gluten-free noodle.
Honestly, the explanation is making it too mechanical, but the reality is a fantastically fresh dish of greens with the soft smooth bite of edamame, the crunch of leafy greens, and the satisfying chew of noodles. Trust me on this one.
Oh, and on the massive menu, the confusing name of the dish is "Bean curd skin with preserved veg and green bean" (it's NOT green bean!), and you'll find it in the long list of "Specialties."
You'd never find this dish if I didn't tell you it was there. Which is a shame, because it's a welcome lighter complement to the rich dumplings. These two make a perfect meal.
(I'd love to say this dish would be great for vegetarians along for the ride, but ask first – with Chinese food there's a good chance the sauce has chicken broth.)
You won't find the words "xiao long bao" on the menu, but the dumplings are the first two items listed: "Steamed tiny buns with pork (8)" and "Steamed tiny buns with crab meat and pork (8)." After years of painstaking taste testing, I think the basic pork are best, though you cannot go wrong.
As for eating, here's how it's done. Very carefully lift a dumpling from the tray and dip it in the tangy black vinegar spiked with fresh shredded ginger (no soy sauce there, it's pure vinegar and not as strong as it looks).
Holding the dumpling over your soup spoon, nibble a bite in the wrapper, letting the steam out, and pour the broth into the spoon. Proceed to eat the dumpling, dunking for more vinegar if you like, and drink the cooled broth from the spoon.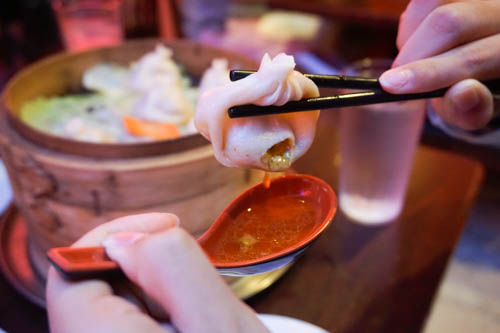 Go ahead and let your eyes roll back in ecstasy. It happens to us all.
Shanghai Cafe Deluxe
100 Mott Street (between Canal and Hester)
New York, NY 10013
Recommended dishes (as you'll find them on menu): steamed tiny buns with pork (or crab and pork), bean curd skin with preserved veg and green bean, noodles with meat sauce (cha chiang mien).