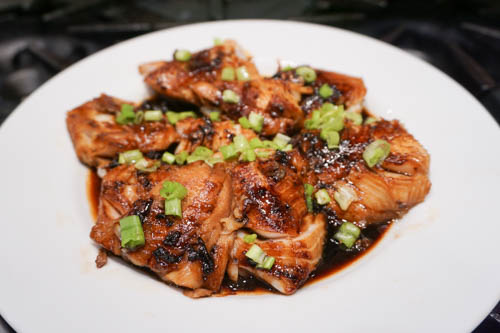 My favorite easy fish preparation is also a perfect January recipe. It ticks all the new years resolution boxes: Cook at home! Be healthier! Eat more fish! Lose weight! My husband swears he always loses weight after we have fish for dinner, even if he's stuffed after the meal.
We all know fish is great for us – omega-3 fatty acids are excellent for brain and heart health. But it can be intimidating to think of making fish at home. What to buy? How to prepare it?
Here's the thing: if you want to eat fish at home, start by buying fish. For me, cooking doesn't start with a trip to the store, it starts with whatever I can put together at home. If I have vegetables, I make vegetables. If I have fish, I'll make fish. If I've already spent money on good ingredients, I won't waste it.
And then all you need is a go-to recipe that makes cooking fish at home a no-brainer. This brilliantly minimal one is my go-to.
I get a pound of fish a week from a local community sponsored fishery, but the easiest way to have fish on hand is to be like my mom, who keeps a bag of her favorite black cod from Costco in her freezer and defrosts one at a time as needed.
My mom came up with this genius preparation, even easier than Mark Bittman's wonderful soy sauce poached fish that I featured here a couple years ago. Bittman's Asian-inspired recipe is a dream over rice, with plenty of poaching liquid to spoon over the flaky fish.
But this soy-glazed fish is even simpler. It can be Asian, but it doesn't have to be.
Soy sauce and a just touch of sugar makes a light, intensely flavored glaze that coats the fish, with a bit left for sopping up. The glazed fish is perfectly at home over rice. But it's just as good – and maybe better – over mashed potatoes, with veggies or a salad on the side.
The mom in me loves the brain food nutrition of fish; the cook in me loves that it cooks in no time at all. And this recipe takes hardly any prep.
You can pour the marinade over frozen fish and let it marinate as it defrosts in the fridge. Or you can marinate it just before cooking. It works out either way.
I like to cut the fish into smaller serving pieces so the marinade has more surface area to penetrate before I start cooking.
Soy sauce and a bit of sugar. That is it.
I love how quickly fish cooks. A minute or two, then flip.
The flesh falls apart more easily when it's cooked. That's how you can tell it's done.
Pop the fish out of the pan, and the marinade goes in. Another minute of simmering to reduce the liquid a bit.
Then pour it over the fish.
My pictures are never as good as this dish deserves. Because it's so easy, we're always making and eating it in a hurry.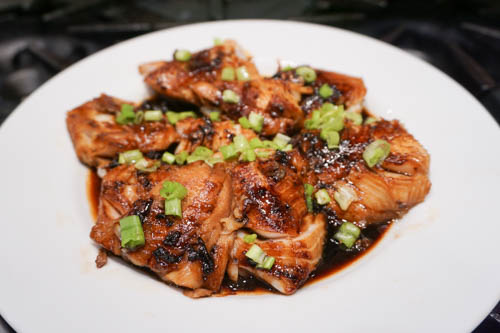 January got away from me. Happy new year!
Simplest Soy-Glazed Fish
This is my go-to fish recipe – fast, easy, versatile and crazy delicious. It can be Asian, but it doesn't have to be. As good with mashed potatoes as it is with rice.
Ingredients
1 pound fish fillets (a flaky white fish works well, but I've also used firmer fish, like swordfish)
1/4 cup soy sauce
1 teaspoon sugar
1-2 tablespoons cooking oil (avocado oil is my favorite)
Chopped scallions (optional)
Preparation
Rinse and pat dry fish. Cut into smaller serving sizes, about 3-4 inches per piece, and place in a bowl (smaller pieces allow for more surface area for the fish to absorb the marinade).
Mix the soy sauce and sugar, stirring to dissolve the sugar granules. Pour over fish and turn pieces to coat them in the marinade. Refrigerate until ready to use (can be a short time or overnight, depending on the time you have).
Heat a skillet over medium heat and add enough oil to lightly coat the pan surface. Add fish in a single layer (you'll likely need a second batch depending on the size of your pan), reserving the marinade in the bowl. Cook fish a few minutes per side, until just cooked through. As it cooks, the color generally goes from translucent to opaque, and the flesh falls apart more easily. Remove cooked fish to plate.
Add marinade to the hot skillet and simmer it a minute or two until the liquid cooks down and looks a bit syrupy. It's easy to cook it down to nothing, so watch it carefully. Better to take it off the heat too soon than too late (no one minds extra sauce). Pour the sauce over the fish, top with chopped scallions (optional) and serve. Excellent over steamed rice or mashed potatoes.
Notes
Good soy sauce is particularly important here. My mom and I use Kikkoman, which is consistently excellent.
I've used this method with many different kinds of local-to-me Pacific fish, including black cod, rock fish, sea bass, yellowtail and swordfish. My mom makes it with frozen black cod fillets from Costco.
Optional: tweak the sugar to your taste, or embellish with additional aromatics (garlic, ginger, onion).
Serves 2-3.
Here's the link to a printable version.