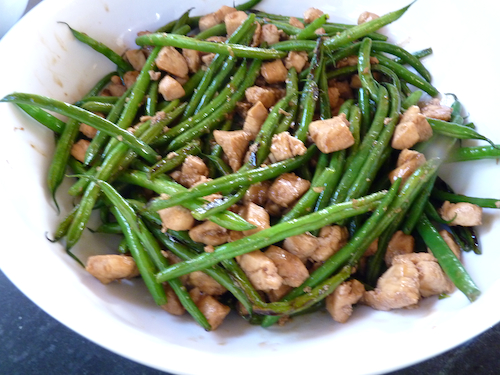 This is Chinese cooking for modern Americans – a light, simple and delicious stir fry that is quick to prep and cook. It's devoured by adults and kids alike in my extended and extensive in-law family and provides everyone with a yummy balanced meal in a single bowl.
In real Chinese cooking, you don't really combine a lot of vegetables with meat in a single dish like this. Even when she worked full time, my mom cooked everything in multiple courses (meat, veg, etc) – which I adore and admire. But I am all about making cooking as simple as possible. Many Chinese dishes require a significant amount of prep time chopping up vegetables and meat. In this recipe the chicken is diced but the green beans are cooked whole, so it's a snap to prepare. In my mom's cooking, she quickly deep fries the meat in small batches, which results in really succulent, tender chicken. But that method is too time-consuming and messy for me, and I also like to keep things light. I stir fry this dish in one big skillet, which makes clean up easy.
I'm on a roll with the string bean recipes this week, which is what happens when you shop at Costco. I hadn't thought of dinner at all until shortly before my six year old's soccer game Saturday afternoon, and I was happy to remember that I still had more than half the package of French green beans left. I scrambled to do 10 minutes of prep work before running out the door.
Defrosted some chicken breasts for a few minutes in a bowl of cold water.
Diced the chicken – still kind of frozen, but I was in a hurry.
Rinsed the green beans and left them to dry in a colander. Ready to marinate chicken.
Couple splashes soy sauce (Kikkoman is the best) and sherry; garlic clove through the press and in with the chicken.
Ready for the fridge.
I was then off for an hour or so to the soccer game. It's perfectly fine if you only have 10 minutes to marinate. But if you have the luxury of thinking ahead, the chicken will be more flavorful if you let it sit for an hour or two.
When I got back, I washed rice and started it in the rice cooker. Then to my quick stir fry. Couple of tablespoons of oil in skillet (my mom always uses corn oil, so that's what I use – feel free to use what you have).
Green beans (you may need to do this in two batches if your skillet isn't supersized like this.
I won't bore you with the green bean cooking since we just went through it in the green beans and feta recipe. Though this time you can undercook a bit, since the beans will go back in the skillet a second time. Remove beans from pan.
Make the stir fry sauce: brown sugar, apple cider vinegar (white or rice vinegar will do too), soy sauce, sherry and garlic. Feel free to add fresh ginger if you have it (you can grate some in or just add a few slices for a milder flavor).
You can also double the sauce if you like a saucier stir fry. American Chinese food is a lot saucier than traditional Chinese food, in which the sauce just serves to give a light coat to the meat.
Add cornstarch (this will thicken the sauce when heated).
Stir, pressing out any lumps.
Now to cook the chicken. Heat a couple tablespoons of oil in same pan. Add chicken.
When chicken is just about cooked (not pink anymore), add prepared sauce. It quickly turns from milky light brown to glossy dark brown as it cooks. I also threw in a couple of jalapeno slices, which my mother-in-law brought in at that minute.
Add cooked green beans and stir to incorporate. Add a dash of sesame oil if desired.
Remove to a serving bowl or platter (sorry picture is blurry…only took one as I was in a hurry to get food to in-laws).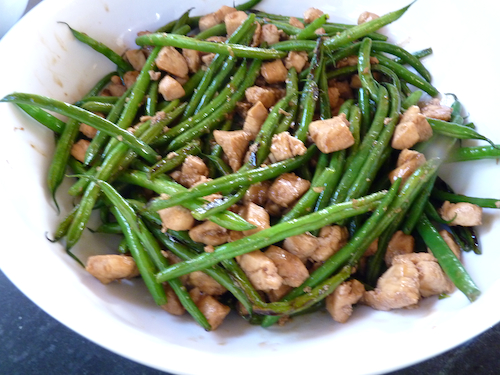 Serve over steamed rice. Tender chicken, crunchy green beans, fluffy rice and a sweet, tangy, garlicky sauce. It's not how Chinese grandmas with a capital "C" cook, but it's darned tasty for the rest of us.
Chicken and green bean stir fry
A light, simple and delicious stir fry. Not authentic, but easy, healthy and extremely versatile.
Ingredients
1 1/2 pounds boneless skinless chicken breast
1 1/4 pounds green beans
Cooking oil
Marinade
3 tablespoons soy sauce
2 tablespoons sherry
1 clove garlic
Sauce
2 tablespoons brown sugar
1 tablespoon cornstarch
1 tablespoon apple cider vinegar (white vinegar or rice vinegar also fine)
3 tablespoons soy sauce (Kikkoman is best)
1 tablespoon dry sherry
1 clove garlic
Optional
Dash sesame oil
1/2 teaspoon fresh ginger, grated
Crushed red pepper flakes, to taste
Directions
If starting with frozen chicken breasts, set in bowl of cold water to defrost.
Take end off green beans and wash.
Rinse rice in several changes of water until water is mostly clear. Add fresh water for cooking and set aside.
Dice chicken into bite-sized pieces (approx 1/2-inch cubes). Place diced chicken in bowl.
Add marinade ingredients to chicken – soy sauce, sherry, garlic (chopped or pressed through garlic press). Stir well to distribute marinade.
Refrigerate chicken.
Start rice to cook before starting stir fry.
Prepare stir fry sauce (note: you can double the stir fry sauce if you prefer a saucier stir fry). Add brown sugar, vinegar, soy sauce, sherry and garlic (again chopped or pressed through garlic press) in small bowl. You can also add fresh ginger if you have it.
Add cornstarch and stir well, pressing out any lumps until sauce has a consistent milky brown color.
Heat two tablespoons of oil in an large skillet over medium-high heat.
Add green beans. If green beans don't fit in one batch, cook half at a time. Use long tongs to turn beans over while cooking so that they do not burn.
If beans are particularly thick, add two tablespoons of water to pan and cover skillet for a couple of minutes to steam-cook beans to desired tenderness. Do not overcook, as beans will go back in the pan briefly later.
Remove beans from pan.
Add two more tablespoons of oil to pan. Add chicken and stir to separate pieces.
When chicken is cooked (turns from pink to white), add prepared stir fry sauce and stir. Sauce will quickly turn from milky light brown to glossy dark brown as it cooks.
Add string beans and stir to combine. Add dash of sesame oil if desired.
Remove chicken and string beans to serving dish.
Serve over rice.
Serves 6.
Notes
If you are making ahead, cook green beans and chicken separately. Just before you are ready to eat, add chicken back to skillet with sauce, then vegetables last. This will keep everything looking pretty.
If sauce is too runny for your liking, mix 2 teaspoons of cornstarch with 2 tablespoons of water and add. Cook until sauce thickens.
If sauce is too thick, add 2 tablespoons of water and stir well.
If sauce is too tart for your liking, add 1 tablespoon soy sauce.
Sherry is a fortified wine, originally from Spain. Some are sweet and others dry. For cooking, you will normally want dry sherry. Better to buy it in the wine section of the market – cooking sherry sold in the food section is not good. Unlike regular wine, sherry will last indefinitely, so you can use it over a long time.
Here's the link to the print version of the recipe: