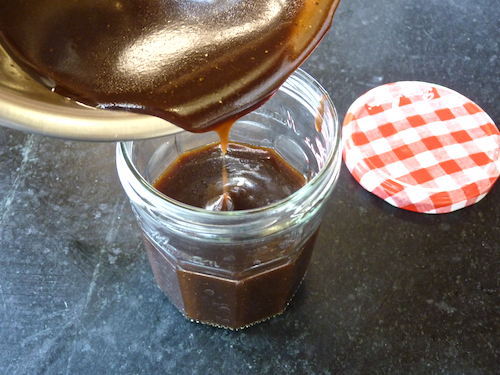 I always have a jar of balsamic vinaigrette ready to go in my fridge. I use it almost daily on salads, spread on sandwiches, or drizzled over vegetables. It's so versatile I rarely bother to make any other kind of salad dressing. And it certainly beats store-bought options with their cheap oils and high fructose corn syrup.
For Thanksgiving I'm using the vinaigrette on my favorite fall salad with greens, dried cranberries, candied walnuts and feta cheese. It is also fantastic drizzled over my go-to green beans or as a dip for grilled vegetables. I love using it on sandwiches, and it's particularly great for make-ahead occasions when mayonnaise won't do. And a beribboned jar makes a great holiday or hostess gift.

I've been meaning to post this vinaigrette for months, but because it's one of those things I make without measuring, it took a while to sit down and actually formulate a recipe. Rest assured that with good olive oil and balsamic vinegar, you can't go far wrong with balsamic vinaigrette – I've made it with more mustard, or more honey, or less olive oil, or without garlic – and it's all good. My friend Josephine makes her balsamic vinaigrette with a squeeze of ketchup instead of mustard and honey, and that's also great.
I rarely break out electronic appliances in the kitchen, but you can certainly whir this up in a blender or food processor. I'm too lazy to get out appliances, and cleanup always seems easier with a bowl and fork.
Honey, mustard, salt, pepper and garlic in a mixing bowl.
Not thinking ahead, I'd already measured out the oil and vinegar together. It's a bit easier to mix the balsamic vinegar with the honey-mustard mixture first, and then whisk in the oil. But this works too.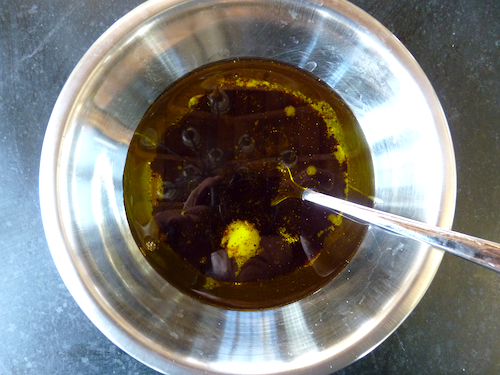 Only takes a minute to emulsify to a nice, thick vinaigrette.
Store in a jar. I like to repurpose jam jars.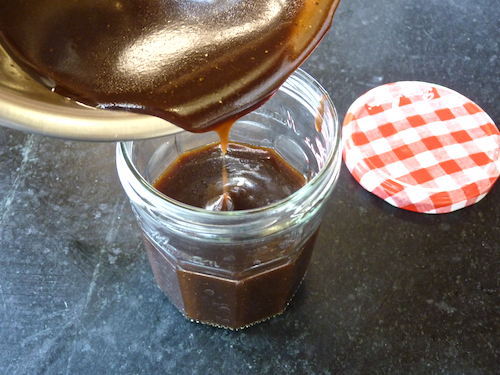 Mmmm. This doesn't last as long as you might think.
One more baby step in Thanksgiving week. I'll be lining up the jam jars after Thanksgiving to make more vinaigrette as holiday gifts (I hear my sisters-in-law cheering), along with batches of spicy candied nuts.
I have more holiday food gift ideas to share after Thanksgiving – my favorite gingerbread cake and my mother-in-law's famous hot fudge sauce. So stay tuned.
Balsamic vinaigrette
A versatile vinaigrette with a touch of sweetness – so much better and healthier than store-bought salad dressings. I make a jar at a time and use it on everything – salads, sandwiches, drizzled over grilled vegetables. Also makes a fantastic holiday or hostess gift.
Ingredients
2 tablespoons honey
1 tablespoon dijon mustard (whole grain dijon is also great if you have it)
1/2 teaspoon salt
1/2 teaspoon ground pepper
1/4 cup balsamic vinegar
3/4 cup extra virgin olive oil
1 garlic clove, crushed (or minced if you like a stronger garlic flavor)
Directions
In mixing bowl measure honey, mustard, salt, pepper and crushed garlic. Stir with fork to combine (you can use a whisk if you're using minced garlic; the crushed garlic clove tends to get caught in the wires).
Add balsamic vinegar and stir. Gradually oil, whisking with fork to incorporate. Stir until fully emulsified.
Store in a jar with lid (a repurposed jam jar works nicely). Keeps indefinitely in refrigerator. I like to leave the garlic clove in, where it sits at the bottom of the jar and continues to release its subtle garlic flavor. But if you are afraid you're accidentally going to get in your salad, you can fish it out with a fork and discard it.
Makes approximately one cup of vinaigrette.
Note
If using a blender or food processor, mix mustard, honey, garlic, salt, pepper and balsamic vinegar first until garlic is well blended. Add oil in batches, pulsing to mix after each addition. Too much mixing will make the vinaigrette extremely thick. I learned this the hard way and had to make a runnier batch to whisk the two together. Alternatively you can whisk in a bit of water to loosen it up, but this will also lighten the color of the vinaigrette. But these adjustments are just for appearances – a too-thick vinaigrette is perfectly usable and will thin out when mixed on salad.
Here's a link to the printable version: Balsamic vinaigrette recipe for printing.