French toast always reminds me of living in New York City, where for many years a weekend tradition was challah french toast with strawberries at our friendly neighborhood diner, Pier 72 on the Upper West Side. Golden brown and crispy on the outside, soft and creamy in the center, it is still the ideal I strive for when I make french toast at home.
I couldn't decide whether to capitalize the "F" in french toast or not, but since this an American breakfast specialty not found in France, it seems as silly to attribute it to France as it is to formalize "French" fries (which the Belgians claim to have invented). In France there is a fairly uncommon dessert called pain perdu, meaning lost bread, which is similar to American french toast but topped with sugar instead of maple syrup.
French toast is a wonderful way to use up leftover bread. French toast in New York City is often made with eggy, slightly sweet challah bread. Brioche, the lovely buttery French loaf, also makes wonderful french toast, as does leftover croissant. On the west coast, sourdough french toast is common, and the hearty structure of sourdough stands up well to the milk and egg dip. In New Orleans, the local version of french toast – likely the closest link to its distant French origin – is actually called pain perdu and is made with leftover baguette cut on the bias.
I love using leftover bread, but the six of us eat so much french toast I usually buy bread especially for it. For me it's a bit overkill to start with a buttery bread, since the custardy bath gives the french toast a richness of its own. Challah, which has the heft of egg without the butter of brioche, is my favorite. Here in Ohio I can only find challah on Fridays, so when I find it I stock up to keep in the freezer.
My favorite french toast bread of all time is the cinnamon twist challah from Berkeley's Semifreddi's bakery, which is sold at Trader Joe's locations in the San Francisco Bay Area. Semifreddi's makes an excellent regular challah also, but the cinnamon twist – a braided challah baked in a loaf pan with a sweet swirl of cinnamon wound through – makes even better french toast than my old diner favorite. It's also so good eaten plain that I always have to guard my slices lest they get snitched by little hands before they get cooked.
Occasionally someone will visit us from California and bring us some cinnamon challah. We repay the kindness with french toast.
I like a nice thick (3/4″) slice.
Eggs, milk, sugar, salt, nutmeg, vanilla in a bowl. You can also add cinnamon if you are not so lucky as to have cinnamon challah.
Mix. Smells just like eggnog.
Butter or oil both work for cooking french toast. Butter has better flavor, but oil gives a crispier crust.
Heat skillet on medium until drop of water on the cooking surface sizzles. Add oil or butter. Dip bread on both sides and place on skillet. Turn heat to low to make sure the inside gets cooked before outside gets too dark.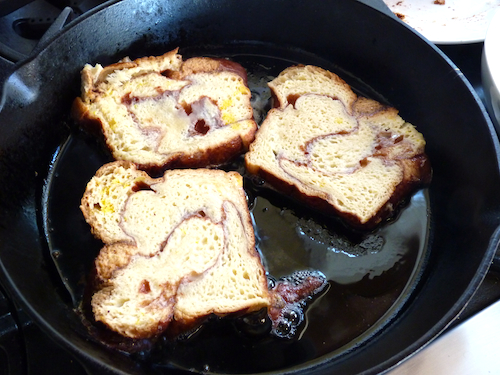 Flip when first side is browned. Second side cooks faster, so watch carefully.
We usually have french toast with strawberries, but this time of year we have to improvise. Sliced bananas are always good and easy; apples sauteed in butter with a sprinkle of sugar and cinnamon are also wonderful. A side of oven-cooked bacon is the perfect savory complement. Serve warm with maple syrup.
French Toast
My family's favorite breakfast, this is a weekend staple. You can also use any day-old bread, but the egginess of challah gives the french toast a nice structure.
Ingredients
One loaf day-old bread, preferably unsliced (challah is my favorite)
4 eggs
1 cup milk
1 teaspoon sugar
2 teaspoons vanilla
1/4 teaspoon ground nutmeg
1/8 teaspoon kosher salt (or dash of table salt)
1/2 teaspoon cinnamon (optional)
Oil or butter for cooking
Powdered sugar for serving
Maple syrup for serving
Directions
Slice bread into 3/4″ slices.
In a wide bowl, mix eggs, milk, sugar, salt, nutmeg, cinnamon (if using) and vanilla.
Heat skillet or griddle on medium heat until a drop of water on the cooking surface sizzles. Turn heat to low and add butter or oil to coat. Butter has better flavor, but oil gives a crispier crust.
Dip slices of bread in egg/milk mixture. Let soak briefly until saturated but still intact. Lift and let excess custard drip in bowl before placing in hot skillet.
Flip slices when first side is browned. The second side cooks faster than the first, so watch carefully. To check doneness, give a quick press in the center of a slice. If no liquid oozes out, center should be cooked through.
To keep warm before serving, place cooked slices on baking sheet in warm oven.
Dust with powdered sugar before serving. Serve warm with fruit and maple syrup.
Notes
Day-old bread works best for french toast (the custard absorbs better into dry bread).
Other bread options: baguette sliced diagonally; any good quality French or Italian bread; thick-sliced sourdough; brioche; croissant sliced in half across.
Boozy variations: a couple of glugs of Grand Marnier or Triple Sec in the egg/milk mixture, with some gratings of fresh orange zest; or add Amaretto and top french toast with toasted slivered almonds; or add Calvados and serve with apples sauteed with butter, sugar and cinnamon.
Here's the link to a print version of the recipe.