From my elementary school days in California, I remember panning for gold-painted pebbles and taking a field trip to a local Spanish mission, where we learned about making adobe bricks from clay and marveled at how small the Spanish padres must have been to fit into such tiny beds. But for my school kids in Ohio, history is about a time when Ohio was the west, and third grade in our district ends with Pioneer Day, a hands-on experience of life on the frontier. I went to man the biscuit station and was unexpectedly enthralled by the magic of the time-transporting event.
Pioneer day was held at the fantastic barn structure of Liberty Presbyterian Church, which just celebrated its 200th anniversary.
The kids started with candle dipping. Start with a long wick and dip in melted wax – three times in wax, one time water – repeating over and over to build up a candle.
They all had a turn to show off their months of square dancing practice.
Lemonade making was a huge hit – fresh lemons squeezed with an old-fashioned press into a cup, with a scoop of crushed ice, a scoop of sugar and a larger cup overturned on top. A few vigorous shakes later, they lifted the shaker cup to reveal what everyone agreed was the best lemonade they'd ever had.
Now off to some pioneer arts and crafts. In pioneer days, tin punching was used to make patterned lantern shades, foot warmers or ventilating screens for food storage cabinetry such as pie safes. Here the students used hammers and nails with stencils to make pictures or messages on sheets of tin.
Like the resourceful pioneers they were, students without hammers made do with large stones.
Next the kids used their newly-honed hammering skills to stamp leather, a craft used by pioneers for decoration and identification of leather goods. They pounded brass alphabet stamps on a wide leather strap that could fasten together as a cuff.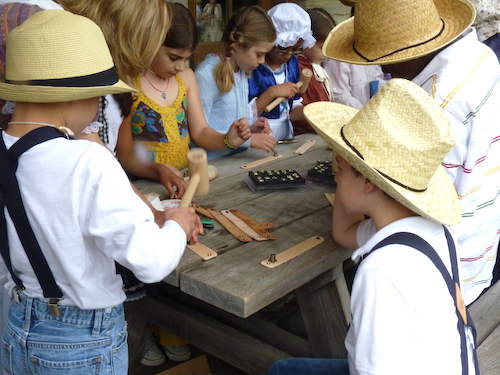 It was amusing to watch as they spelled out messages. Some were classic Buckeye country.
But a few had other allegiances.
This one was too much. And no, that sweet boy is not my son.
Then there was rope tying, which helped the kids imagine life before velcro.
My contribution to pioneer day was at the biscuit making station. We inherited a recipe from last year's biscuit team (pretty much like this one from allrecipes – though if you make that recipe, start with 3/4 cup milk, since I found a full cup to be too much). We had about 100 eager bakers cutting shortening (pretend it's lard, kids) into flour, kneading and rolling dough and using tin cans to cut out biscuits.
The pioneer men made great biscuits too.
And then – my favorite – the kids made butter to eat with the biscuits. Each one was given heavy cream in a clean baby food jar to shake endlessly.
After a long while the cream thickens into whipped cream. With more shaking it gets thicker still, and when it seems like nothing is happening and your arm is going to fall off, suddenly the cream separates, liquid emerges again, and when you open the lid a cute ball of butter is bathing in a pool of buttermilk. It's magical.
If you want to try making butter by hand at home, some people put a marble in the jar with the cream and say when you can't hear the marble shaking, the butter is done. But the mom in charge of the butter station said she had to confiscate the marbles after they kept breaking the jars. You can also make butter in a blender or food processor, as illustrated in a great cookingforengineers blog post.
I heard enough complaints about the taste of butter from kids and parents that I finally had to taste it for myself. And it tasted like…sweet butter. Maybe it was the trace of buttermilk that put people off? Or the lack of salt? Can it be that in this world of artificially butter-flavored spreads that people no longer even know the simple taste of real butter? I hope it's not that.
I didn't get a chance to photograph many other activities that were held at the same time as biscuit-making: tug-of-war, spinning thread, washing clothes with a washboard. But suffice to say the kids had a full day of fresh air, creative stimulation and old-time fun. It was a rare spectacle of squeaky-clean joy, and I was grateful to share in the experience.
How about you? I'd love to hear about creative school events in other states and countries.
(And now for a little geeky postscript)
Writing this post makes me realize how little I remember from history classes. I remembered the term "Northwest Territories" but had forgotten that "northwest" referred to what is now Ohio and Michigan. And that the Northwest Ordinance after the formation of the original 13 colonies into the United States barred the existing states from claiming new territories for their own, reserving the population of entirely new territories for federal jurisdiction and paving the way for the formation of new states.
I'd also forgotten that California, much of the southwest US, the Caribbean and Mexico had all been part of one Spanish colony, New Spain, and from the time Mexico gained independence from Spain in 1821 until the end of the Mexican-American War in 1848, California was part of the country of Mexico.
I'm good on the reading, writing and 'rithmetic, but it looks like I'm going to need some refreshers to keep up with my fourth grader on history.