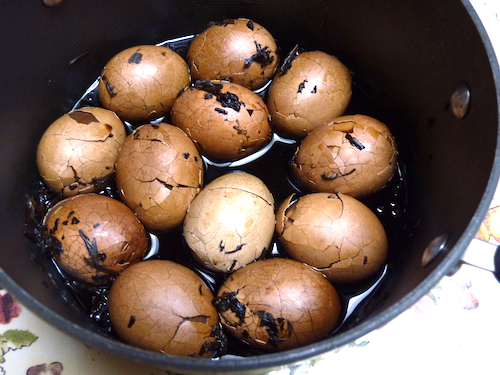 I'm relieved it's January. I love the spirit of holiday season, but I'm thrilled to leave the holiday pressures of gifts and travel behind. Though there's a lot of winter ahead, we are inching our way into longer days. I felt wistful as December closed, but January brings fresh hope.
I enjoyed Christmas cookies for breakfast, but January is a time to clear out the excess of the holidays. That doesn't have to mean boring food. Just as there are good cookies and bad cookies, healthy food can be tasteless and dull or it can be fresh and flavorful.
I think tea eggs are just the thing for a busy new year. More interesting than a regular hard-boiled egg, simpler than a deviled egg, tea eggs have a little salt, a little soy, a hint of tea and a beautifully marbled look.
Enjoyed by Chinese for centuries, tea eggs are great hot or cold, savored on a plate or eaten on the run. They make a satisfying portable breakfast or wholesome snack for cleansing month. They also make fantastic airplane food.
Fast food restaurants are regrettably ubiquitous in Asia today, but tea eggs are old-school Chinese fast food. Convenience stores in China and Taiwan still stock a warm potful by the register for busy people to grab a snack on the go.
A hard-boiled egg is already one of nature's perfect foods – portable, nutritious, satisfying. But alone it can be kind of bland. Infused with the flavors of salty soy sauce and fragrant tea, Chinese tea eggs achieve a rare combination of health, flavor and convenience. And they are so easy to make.
I'm glad to see that eggs have been vindicated by the often-confusing health authorities in recent years. Even though eggs contain a high level of cholesterol, according to a Harvard report, "For most people, only a small amount of the cholesterol in food passes into the blood. Saturated and trans fats have much bigger effects on blood cholesterol levels."
Tea eggs are traditionally eaten during Chinese New Year, which falls this year on January 25. With holiday distractions, I'm long delayed getting a new post out, but rather than feeling late – my perpetual state, alas – I'm going to see myself as early for Chinese New Year. A new year deserves a clean start.
My mom makes tea eggs without a recipe, but for us she found one in a vintage cookbook, the amusingly titled Madame Wong's Long-Life Chinese Cookbook. According to Madame Wong, tea eggs "symbolize wealth, prosperity and fertility." And they taste good too.
How's this for a '70s book design?
Madame Wong uses dark soy sauce, which I don't own and is uncommon outside of Asian food markets. Easier to find is Kikkoman, a Japanese soy sauce which is traditionally fermented, without the chemicals and additives often found in Chinese soy sauces. Chinese soy sauces come in light and dark varieties, dark being thicker and less salty than light. Kikkoman describes its product as somewhere in between.
My mom uses Kikkoman soy sauce to add saltiness and flavor to her tea eggs, and when I did the math, the amount matches very closely to the sodium in the dark soy and salt combination used by Madame Wong.
Start by hard boiling some eggs. I like to make a dozen, because they keep for a week and are so deliciously convenient.
Use your fingers or the back of a spoon to crack the eggshells. The flavor seeps in through the cracks, so better to have a messily cracked shell than one that is not cracked enough.
A well-cracked egg.
Cracked eggs go gently back in the pot.
Add black tea, loose leaf or tea bags. I've read that pu-erh tea is traditional, but you can use oolong, Lipton, or whatever you have. My mom uses any tea she's looking to get rid of – the tea flavor is dominated by the soy sauce, so the type is not critical.
Add soy sauce and a star anise (unfortunately hidden in the picture among the tea leaves). The star anise adds a slight licorice note to the mix, but you can leave it out entirely or flavor the eggs instead with five-spice powder, a bit of sugar, dried orange peel, cinnamon stick or Sichuan peppercorns.
My mom likes to have the eggs in one layer, so we took a couple out. We also could have used a wider pot.
Add water. If you add enough to cover the eggs, you don't have to turn them. My mom prefers to keep the liquid more concentrated and turns the eggs once halfway through cooking.
This is what you get after simmering for an hour.
The eggs will continue to absorb flavor as they soak. Frugal chinese grandmas can store the liquid for future batches.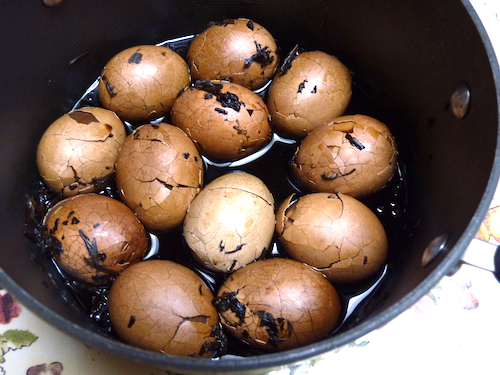 We used a bit of dark soy sauce in this batch for experimentation. With Kikkoman soy sauce you don't get big dark patches. What we like is nicely marbled eggs.
With long-cooked eggs, it's common to have a slight grey/green ring around the yolk. If you are super-picky, you can heat the soy/tea liquid separately and steep the eggs in it instead of simmering the cracked eggs in the liquid. It will take longer for the flavor to absorb, but you will maintain uniformly yellow yolks.
Happy New Year, everyone! I'm so grateful to have you here and wish you all best for a happy, healthy 2012.
Tea Eggs
This is Chinese fast food – deliciously savory hard-boiled eggs, ready to eat warm or cold. Soy sauce adds salt and flavor; black tea adds color and a subtly fragrant note. They make an easy, satisfying breakfast or convenient wholesome snack.
Ingredients
6 eggs
2 tablespoons (2 bags) black tea
1/4 cup soy sauce
1 whole star anise
Water
Directions
Place eggs gently in a large pot and add water to cover. Bring to boil. Depending on your preference, either 1) remove from heat, cover and let sit 20 minutes or 2) turn to low and simmer for 10 minutes. Drain eggs and let cool (you can speed cooling by giving the eggs a cold water bath, draining and refilling when the water gets warm again).
Using your fingers or the back of a spoon, crack each eggshell all around. The cracks allow the flavor to penetrate, so make sure each eggshell is well and deeply cracked all over.
Place cracked eggs in a pot, ideally keeping in a single layer. Add tea, soy sauce, star anise and water just to cover. Bring to boil. Turn heat to low and simmer for an hour, turning eggs if water gets low. Leave eggs in liquid, as eggs will continue to absorb flavor. Refrigerate when cool.
Notes
If you don't have star anise, leave it out or try one of these optional flavorings: dried orange peel, five spice powder, sugar, cinnamon stick, sichuan peppercorns.
Frugal chinese grandmas can save the liquid for another batch. Store in refrigerator if using within a few days; otherwise freeze for a later date.
Cooking hard boiled eggs for a long time can result in a gray-green outer layer on the yolk that will not affect the taste. If the aesthetics really bother you, try these modifications: 1) cool hard-boiled eggs in ice-watera bath immediately after cooking, 2) bring water, tea and soy sauce to a boil first, then pour over well-cracked eggs, 3) let eggs soak in liquid in refrigerator overnight or longer. The flavor may not be as strong as in eggs simmered in the tea/soy sauce liquid, but your yolks should stay bright yellow.
Here's the link to a printable version.