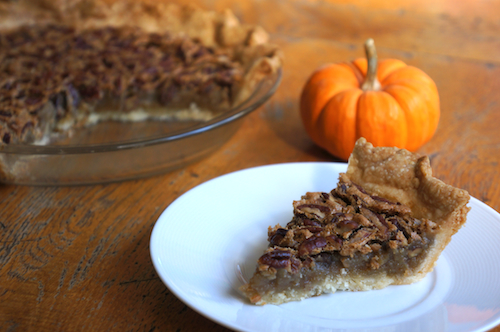 I love pies and pecans, but I was always wary of pecan pies. Why the gelatinous goo? Why the impenetrable layer of nuts that squishes the goo when you try to break through? Why pile such deliciously buttery nuts atop corn syrup jelly?
But then I tasted my friend Jenny's pecan pie.
Jenny's pie – fork-friendly pieces of pecan nestled in a delicately crackly crust over a soft caramel custard base of brown sugar, eggs, butter and vanilla – is what pecan pie was before Karo came along.
Jenny's family recipe is based on Southern chess pie, without the bit of cornmeal commonly found in the sugar-butter-egg-vanilla custard. The early historical record of pecan pies is sparse – the dessert was popularized by Karo beginning in the 1930s – but the custardy base of chess pie would have been a natural fit with the native Southern nut in pre-corn syrup America.
The last three years in Ohio, Jenny and I had a happy deal: I bought pecans from Costco, and she made us pecan pies along with her extensive Thanksgiving baking for her own family. This year I'm on my own in California, but it turns out the recipe couldn't be easier.
One bowl, and this simple pantry pie filling – brown sugar, granulated sugar, flour, eggs, butter, vanilla – mixes up in minutes. Pour it in a store-bought pie shell (I've decided that homemade pie-crusts will have to wait until retirement, when I will have more time and hopefully more patience) with some pecan pieces, and it's ready to bake.
First mix a bit of flour in with the sugars.
Then add eggs, milk, melted butter and vanilla.
Jenny says if you don't mix the filling well, you can get a layer of sugar at the bottom of the filling. So I actually dug out a crowded cabinet get to my abandoned electric mixer. You can certainly mix by hand – check the filling by rubbing a bit between your fingers to make sure the sugars have dissolved.
Jenny sprinkles her pecans on top. But it's just as easy to distribute them in the pie crust before pouring in the filling, or mix them into the filling before pouring. They rise to the top during baking anyway.
I was worried that this pie came out unevenly puffy. But the filling settles down nicely as it cools.
The pie takes at least four hours to cool completely.
But it's well worth the wait.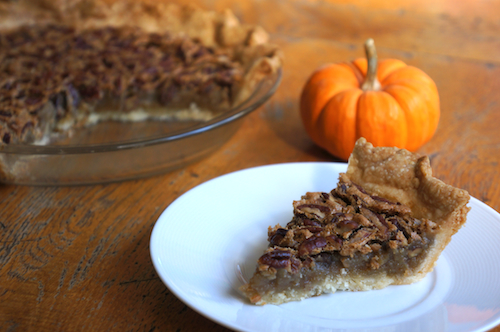 Make the pie a day or two ahead of time – it keeps well at room temperature. Or wrap it up and put it in the refrigerator if you need to keep it away from eager tasters.
The countdown begins! Happy Thanksgiving – I am very thankful for you all.
Other Thanksgiving dessert options
Pecan Pie (No Corn Syrup)
In this corn syrup-free pie, pecans nestle in a crackly crust and soft brown-sugar base. A Southern recipe from my friend Jenny, a master baker like her mom and grandma before her.
Ingredients
1 unbaked 9″ pie shell
1 cup brown sugar
1/2 cup granulated sugar
1 tablespoon flour
2 eggs
2 tablespoons milk
2 teaspoons vanilla
1/2 cup butter, melted
1/4 teaspoon salt (1/2 teaspoon if using unsalted butter)
1 cup chopped pecans
Directions
Preheat oven to 350 degrees F.
In a large mixing bowl, mix sugars and flour. Add remaining ingredients except pecans, beating very well. (A pie not mixed well enough may end up with a layer of sugar at the bottom of the filling – check the filling by rubbing a bit between your fingers to make sure the sugars have dissolved.)
Mix nuts into filling and pour into unbaked 9″ pie shell. Bake until crust is golden and pie filling puffy, about 40-45 minutes. The filling should not be jiggly when you move the pie – if it is, leave it in the oven a few more minutes (cover with foil if your crust is getting too brown). Cool completely, at least four hours. The pie will deflate as it cools.
Notes
Jenny uses less (around 2/3 cup) pecans in her excellent pies. Use more or less, depending on your taste.
Add a tablespoon of brandy, rum or bourbon for a more spirited pie.
Pecan pie keeps well at room temperature for several days.
Pre-baking option: It's an extra step, but pre-baking the pie crust helps keep it from getting soggy. Bake at 350 degrees F for 9-10 minutes, enough to partially cook but not enough to brown it. Then bake the filled pie at 325 degrees F for 45 minutes (the lower temperature will help the crust from getting too dark).
Here's the link to a printable version.