Nobody goes to a Chinese restaurant for dessert. Dairy products such as cream and butter, so essential to pastry, were uncommon in China until recent years. Even today, ovens are not typically found in Chinese kitchens. Traditional Chinese treats are made on the stovetop – fried goodies such as sweet, chewy sesame seed balls made with rice flour, or steamed treats such as the sticky Chinese New Year rice flour cake called nian gao. Closer to a Western idea of dessert is this soft, springy sponge cake made simply with eggs, sugar and flour.
In America, steaming as a cooking technique is pretty much limited to vegetables. But the Chinese know how to make use of this versatile method – with succulent steamed fish, moist steamed chicken, and, most notably, the vast array of dumplings and other bite-sized savories stacked in towers of bamboo steamers at dim sum.
During my 20s in New York City, no weekeend dim sum excursion to Chinatown was complete without a steamed sponge cake to take home – a couple of dollars for a square so giant that even after pulling off sweet, cushy bites all the way home I would still have plenty for a snack later that day and perhaps even the next.
Steamed sponge cake is the rare dim sum item that is easily made at home. It has the springiness of angel food cake but a fuller flavor, like a regular omelet compared to an egg white one. Its Italian/French sponge cake cousin, the genoise, can be dry, but steaming makes the Chinese version softer and moister, even without the added butter of many genoise cakes.
This is a cake for snacking. It works for breakfast – not health food, but it is very eggy – or to grab a slice on the run. Its spongy texture makes it convenient for eating out of hand, unlike a regular cake which would be too crumbly, and its light vanilla sweetness is appealing any time of day.
I've made this cake many times over many years, and it is never quite perfect. But I don't make this cake for its looks; a steamed cake will never have the nicely golden crust of a baked one. It's a cake I make just because I like to eat it.
You don't need a bamboo steamer to make this cake. Usually I just make it in the steamer basket of my pasta pot after lining it with wax paper. But more attractive is to use a regular 8-inch cake pan. Find a wide, covered pot that will fit the pan, and the only trick is finding a rack to fit in the bottom of the pot that will hold the cake pan above the boiling water. As Grace Young suggests in her classic Wisdom of the Chinese Kitchen, you can also prop the pan on empty 2-inch cans with the ends cut out.
This is one recipe that calls for an electric mixer. You can mix manually with a whisk, but an electric mixer will incorporate more air and make a lighter cake.
I like the purity of the egg-sugar-flour approach without additional leavening. But it is hard for me to get a consistent result, and often I get spots in the cake that are denser than others.
I tried the genoise approach of beating the eggs over a hot water bath to incorporate more air into the egg-sugar mixture. But that cake ended up driest of all. And it took a lot longer to beat the eggs sufficiently high.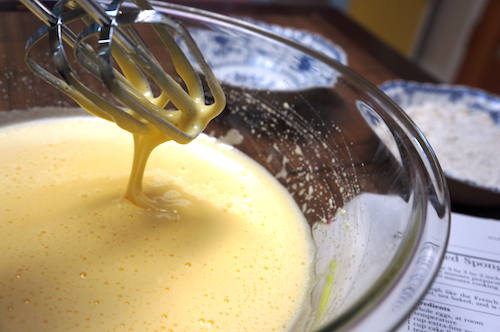 In this version I made a smaller batch in a bamboo steamer.
This one looked the best.
My family liked the simplest egg-sugar-flour version best, with no baking powder and no water bath. It's denser than the ones you'd buy in Chinatown, and I still had a few spots that fell a bit (see the darker yellow bits). But the kids loved the soft denseness of it.
Old school Chinese cooks made this cake with a bowl each of eggs, sugar and flour, without the aid of measuring cups or electric mixers. But in the end, I think a little baking powder makes for a more forgiving recipe. My last baking-powder version wasn't visually perfect (left foreground below) – probably because I'm too rushed to sift my flour or make sure my batter is even – but it works and tastes like it should.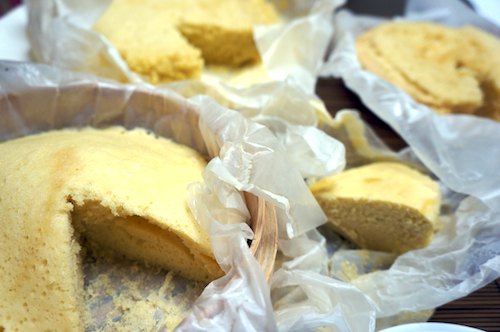 So rest assured, as with all recipes featured here, perfection is not required. I have no doubt the more careful among you will easily outdo my efforts. But I think even an imperfect rendition won't disappoint.
Happy Chinese New Year on Sunday! Year of the snake, or as the Chinese like to call it euphemistically, "little dragon." Wishing double happiness to you all.
Chinese Steamed Sponge Cake
Ovens aren't commonly found in China, so bread products are often steamed on the stovetop. This light, eggy cake, similar to a genoise sponge cake, is traditionally made from flour, sugar and whole eggs. But a touch of baking powder makes for a more reliable rise. Adapted from Grace Young's classic Widsom of the Chinese Kitchen.
Ingredients
5 large eggs, at room temperature
3/4 cup granulated sugar
1 cup cake flour
1/2 teaspoon baking powder (optional)
Pinch salt
1 teaspoon vanilla extract
Directions
Line an 8-inch cake pan with wax paper or parchment paper. Identify a wide pot or wok that can accommodate the pan and a rack that can fit in the pot and hold the pan above water level (you can also sit the pan on 2-inch high cans with ends cut out). Add water to about 1/2-inch below rack. Cover pot and heat water while you mix cake.
Sift together flour, baking powder and salt.
Add eggs to a large mixing bowl. Using an electric mixer on high speed, beat eggs for one minute and add sugar slowly. Beat for until mixture thickens, about five minutes.
Gradually whisk flour mixture into eggs. Add vanilla extract.
Pour batter into prepared pan. Set pan on rack and cover pot. Turn heat to medium and steam until toothpick inserted into center comes out clean, about 20-25 minutes. If you run out of water during cooking (ie you stop seeing steam), carefully add boiling water to pan. Take care when removing lid so that condensation from lid does not drip on cake. Serve cake warm or cooled.
Notes
If using different-sized eggs: total egg volume should be about 1 cup.
Cake flour substitution: remove two tablespoons from 1 cup of all-purpose flour; replace with two tablespoons cornstarch (aka corn flour). Or if you don't have cornstarch, simply use the smaller amount of all-purpose flour.
You may also substitute almond extract for vanilla.
Here's the link to a printable version.