I'd forgotten about hurricane popcorn, a ridiculously addictive Asian-fusion snack from Hawaii, until I saw the words "nori popcorn" online recently. And then it all came back – hot buttery popcorn, toasted sesame seeds, crisp bits of roasted seaweed and a bit of sugar – and I had to make it immediately.
In college, I had no problem bypassing the usual vices, but when my friend Alli from Hawaii pulled out the neon-rainbow hurricane popcorn packet from her suitcase, and we popped the corn in my unauthorized dorm room microwave, poured in the alarmingly yellow fake-butter packet, shook it all up with the salty, sweet, crunchy topping, I was hooked.
Made by Oahu-based Hawaii Popcorn Company, hurricane popcorn was first sold from a pushcart in Kaneohe. Word spread, and eventually the company made a packaged product for people to make at home. Some movie theaters in Hawaii now offer hurricane in addition to regular popcorn, and in others people sneak in flavor packets to make their own.
Like another dorm room favorite, instant ramen, packaged hurricane popcorn is heavy on MSG. If I'd known then how easy it is to make a more wholesome version of hurricane popcorn – all I needed was a Japanese rice seasoning called furikake (pronounced foo-ree-CAH-kay) – I could have spared myself months of pining for a hurricane fix between Alli's all-too-seldom trips home from New York to Honolulu.
It's not hard these days to find good quality furikake in any Asian market. Simple nori furikake, with sesame seeds, roasted seaweed (aka nori), salt and sugar, is the one most similar to the hurricane popcorn seasoning. You can also make homemade furikake, which is economical if you use it in quantity.
I should warn you that once you have it, you may start putting furikake on everything. Take something plain – rice and vegetables, steamed fish, even a fried egg – and a shake of furikake makes it a party.
You can buy furikake on Amazon (currently $6.59 as an add-on item), but it's normally around $2 at the store. In areas with high Asian populations you may even find it at your local supermarket. But otherwise a specialty Asian grocer should have it. The label may have a lot of Japanese on it, but look on the back to find ingredients listed in English. If you find the JFC brand, which I like because it has no MSG, the nori version has a blue label.
I also bought a version with dried bonito (tuna) flakes, a popular ingredient in Japan whose deeply savory appeal anchovy lovers will understand.
I don't recommend commercial microwave popcorn for health reasons, but also because it's usually pre-flavored, and you won't want double up on fat and salt (adding butter or oil is important so the furikake sticks to the popcorn). You can easily make your own microwave popcorn in a brown paper bag. It's cheaper too.
I love my air popper – easy and fast, no clean up. And for anyone making popcorn on the stovetop, Elise at Simply Recipes has a smart technique.
Here it goes.
And toppings: melted butter, furikake and rice crackers if you like. The Japanese call the bite-sized rice crakers arare; in Hawaii slang they are known as mochi crunch. I had these seaweed-wrapped ones, but the smaller ones with no seaweed would blend in better with the popcorn.
I forgot to add a drop of soy sauce in with the butter, but I added it with a bit of olive oil since my butter didn't seem quite enough.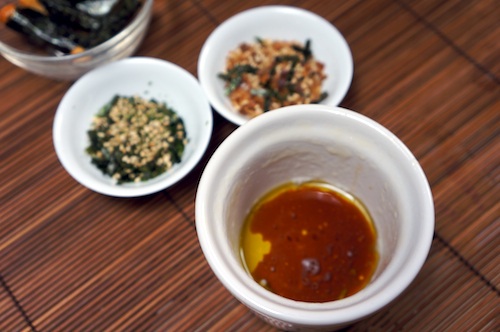 The furikake with bonito blended in more with the popcorn.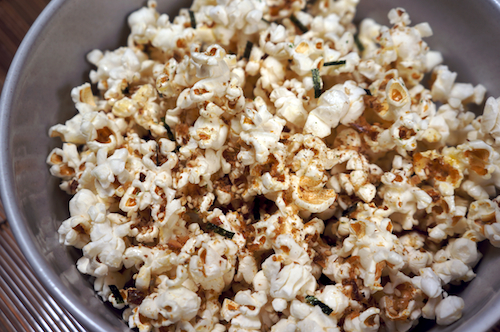 And the nori furikake was really the taste I remembered. I like rice crackers, but I prefer my hurricane popcorn straight up.
So ono (Hawaiian for delicious). I used this small bowl for pictures.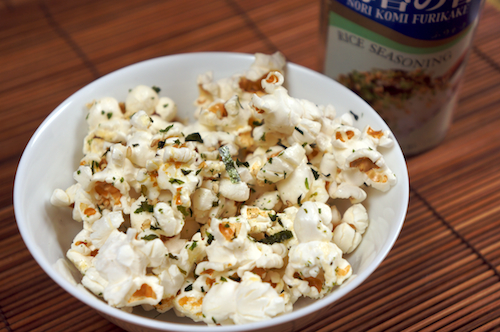 But really I ate half this large bowl as my breakfast/lunch. And then I got busted by my mom for not eating a balanced meal. Good thing she didn't see me in college.
Mahalo to my awesome friend Alli. Dat hurricane popcorn brok da mout, brah.
Hurricane Popcorn
This Asian fusion popcorn from Hawaii originated in a popcorn cart and is now sold in microwave packs all over the islands. Making it at home only takes a shake of furikake, a Japanese rice seasoning common in Asian markets. More economical and avoids the MSG, artificial butter flavoring and other chemicals found in the pre-packaged version.
Ingredients
Fresh popcorn
Melted butter (can mix with good olive oil), 1 tablespoon per quart of popcorn
Touch of soy sauce (about 1/8 teaspoon for each tablespoon butter)
Nori furikake (Japanese rice seasoning consisting of salt, sugar, sesame seeds and bits of roasted seaweed), about 1 tablespoon per quart of popcorn
Optional
Japanese rice crackers (aka arare or, in Hawaii, mochi crunch)
Directions
Mix a touch soy sauce with melted butter. Gradually drizzle butter mixture over popcorn, distributing it as evenly as you can. Use a large spoon to mix well or shake popcorn vigorously in a bag.
Sprinkle furikake over popcorn, stirring/shaking well to distribute. Mix in rice crackers if you like. Top with an additional sprinkle of furikake.
Notes
Here's the link to a printable version.