I've been obsessed all year with these luminous, colorful bracelets – made from sleekly gorgeous Japanese beads – and I'm excited to share my source with you holiday elves. Made of delicate colored glass, these elastic bracelets are light and easy to wear, quiet and unobtrusive but also bright and fun. I've hardly taken them off since I got them months ago, and they still give me a daily tickle of joy.
Before my friend Rachana turned me onto these bracelets in February, I'd never heard of Tila beads. Since the 1930s, family-owned Japanese manufacturer Miyuki has been making beautiful, precisely crafted glass beads that are used in both jewelry and intricate crafts. The flat, glossy Tila bead, slightly rounded on one side and flat on the other, was added to the lineup in 2011.
Nona Designs on Etsy has the loveliest collection of Tila bracelets ($16) in a rainbow array of colors. Nona's kind shop owner Wenona is brilliant at curating color, and I've passed many happy hours combing through her selection of styles and colors. I also love mixing in Wenona's super-delicate seed bead bracelets (3 for $19) with the larger Tila bracelets (along with a couple of string bracelets from Ana in Spain – which some of you who have been around since 2013 may remember).
Now that I've been clued in to their existence, I have seen Tila bracelets around elsewhere — some on string bracelets, some with a clasp. But I'm a fan of the convenience and clean, unbroken look of the elastic bracelet.
I'm a little embarrassed to admit how many of these I've already given out this year. It's been a milestone birthday year for me and many of my friends, and at our age — 50, shh — the passage of time carries heavy associations. These lovely little wearables have been my way of reaching out to say "I love you," and "You are beautiful," and "There is fun yet in this life" — even though all I actually say is, "I thought you might like this." But I know from their reactions that they get the real message. And when I give the gifts away, I get cheered up too.
You can absolutely wear one Tila bracelet. But they do seem happier with company.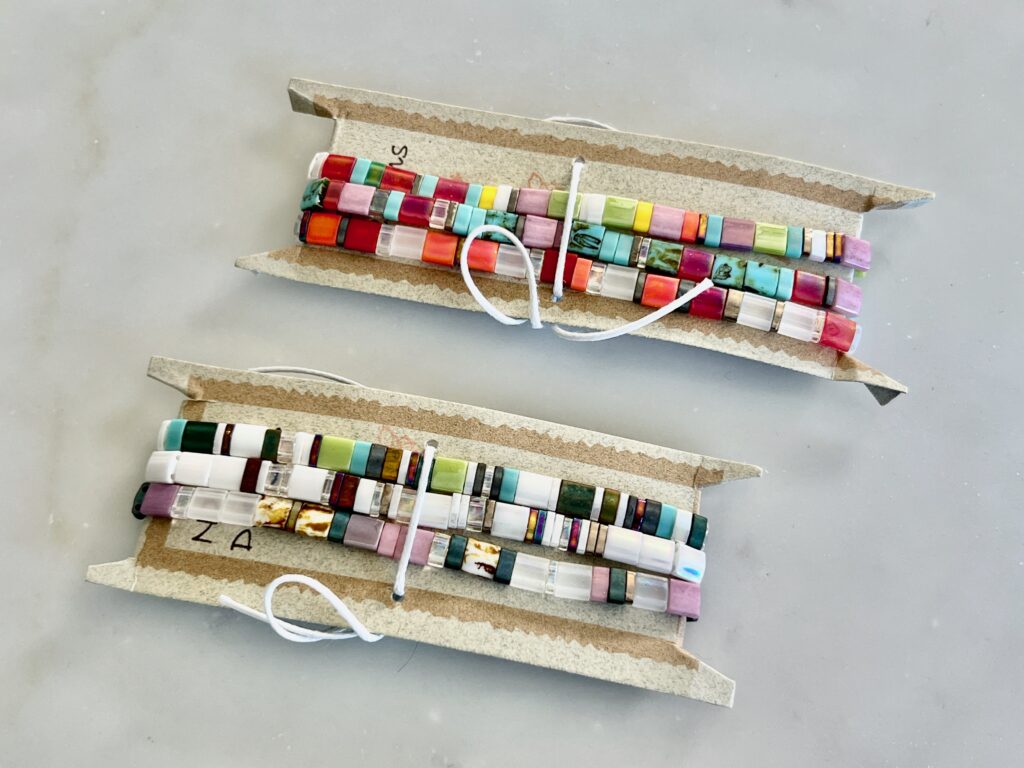 My young friends love the bracelets too.
Matching colors and patterns to personalities is a big part of the fun for me.
I suspect some holiday elves may need a little extra bracelet or two for themselves this season. I say go for it.
I love you guys. You are beautiful. There is still fun yet in this life.
***
Ack is it me or does Thanksgiving seem early this year? My recipe archives are here for you (and me!). But I'll also copy the links here in case it's helpful to anyone. I am ever and always thankful for you all!
THANKSGIVING
Appetizers/starters
Turkey
Salads
Sides
Desserts