Spinach dip in a sourdough bread bowl was the California party food of my teen years. It's great teen cooking – easy junk food with a generous dose of spinach for redemption – plus the fun of carving the crusty round of bread and cutting cubes for dipping.
The original dip is flavored with Knorr's leek soup mix, but now I eliminate the mix with its MSG and additives and lighten up the dip with Greek yogurt in place of sour cream.
But I stay true to the ease of the classic preparation. You could use fresh spinach, but frozen chopped spinach is already cooked, cut and cold. Combine dry seasonings – onion powder, garlic powder and paprika – plus a dash of Worcestershire and chopped water chestnuts for the mystery crunch. And it's party time.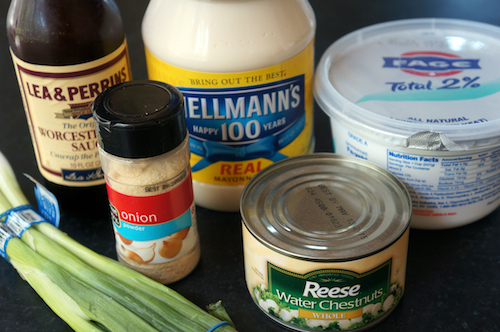 Fresh scallions are the one extra step. Peel off any wilted strands.
Slice in half lengthwise and chop.
Water chestnuts are easy to cut, but a quick whir in my mini chopper is faster.
The key to it all – squeeze out as much water as you can from the spinach. You have to use your hands for this.
The original dip has half mayo, half sour cream. I used two-thirds Greek yogurt and one-third mayo.
A little Worcestershire sauce adds a bit of salt and tang.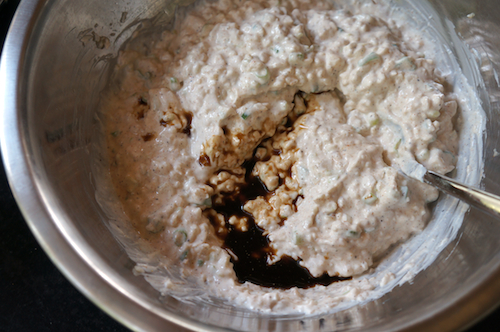 My tightly squeezed spinach.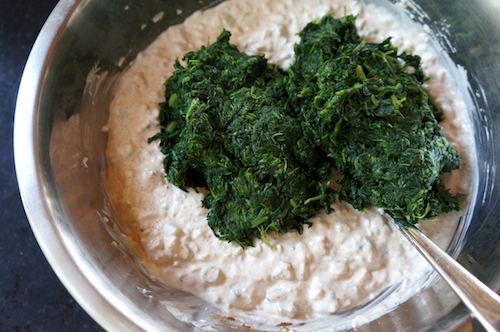 Ready to go. But a couple of hours in the fridge helps the flavors absorb.
It's harder to find a big round sourdough loaf in Ohio. But Panera makes a good loaf for cubes.
And if sourdough isn't your thing, any crackers, chips, bread or cut vegetable will work as a dip-delivery mechanism.
I'm so glad my sister-in-law requested spinach dip for my nephew's graduation party. A decade or so ago, I'd worked out how to make the dip without soup mix, but I never wrote it down. Next time I won't have to remember.
Spinach Dip (Without the Mix)
Spinach dip in a sourdough bread bowl was the party food of my youth – easy to make and deliciously rich. Now I like to make it without the Knorr's soup mix, which has MSG and a bunch of other additives, and I lighten it up with Greek yogurt in place of sour cream.
Ingredients
1 1/2 cups Greek yogurt (or sour cream)
3/4 cup mayonnaise
1 1/2 teaspoon onion powder
1 teaspoon paprika
1/4 teaspoon garlic powder
1 1/2 teaspoon kosher salt
3/4 teaspoon black pepper
2 teaspoons Worcestershire sauce
1/2 cup chopped scallions
1 8-ounce can water chestnuts, drained and chopped finely
1 16-ounce package frozen chopped spinach, thawed and squeezed of excess moisture
Directions
In a large bowl, add greek yogurt, mayonnaise, onion powder, paprika, garlic powder, salt and pepper. Mix well.
Make sure you squeeze spinach well to rid of excess water. Add spinach to bowl along with chopped scallions, chopped water chestnuts and Worcestershire sauce. Chill before serving to allow dip to absorb flavors.
Serve California-style with sourdough bread cubes or whatever bread/crackers you prefer.
Notes
If you have time, you can thaw frozen spinach in a colander in the sink. Otherwise, microwave on half-power to defrost without cooking.
Frozen chopped spinach is very convenient here – already cooked, cut and cold – but if you want to use fresh spinach, blanch the leaves first, then cool, then chop. As with the frozen spinach, make sure you squeeze out all excess water before you add it to the dip. Spinach cooks down a great deal, so you may need 2 1/2 pounds of fresh to equal one pound of frozen.
Here's the link to a printable version.