Cheerfully squat fuyu persimmons are the sturdy siblings of the persimmon family, while heart-shaped hachiyas are the delicate ones. Sweet only when fully ripe and soft, hachiyas are squishy balloons of orange jelly, barely held together by the thinnest of skins.
Persimmon trees are a common sight in Silicon Valley yards. Fuyu persimmons are much more popular commercially now, but all the legacy trees here are hachiyas, which dominated the American persimmon market when Silicon Valley was orchard land.
My mom has a fuyu persimmon tree, and we have no problem eating all the sweet, crunchy fruit it produces. But friends with hachiya persimmon trees hurry to give away the fruit before their yards become splattered with orange jelly bombs.
I made three persimmon breads with our latest hachiya persimmon largess. I overdid the persimmon on my first attempt, and it was more like a dense, moist persimmon pudding – delicious but deflated-looking. My second attempt looked great but was not that different from banana bread. The third attempt was the winner. Flavored with vanilla and nutmeg, it is rich with flavor, very moist and presentable enough to gift.
Red-orange hachiya persimmons are on the plate. The orange fuyus next to them kind of look like tomatoes.
This is a quick recipe to make. Dry ingredients go in a bowl first: flour, sugar (my granulated organic sugar has a light brown tint), salt, baking soda and nutmeg.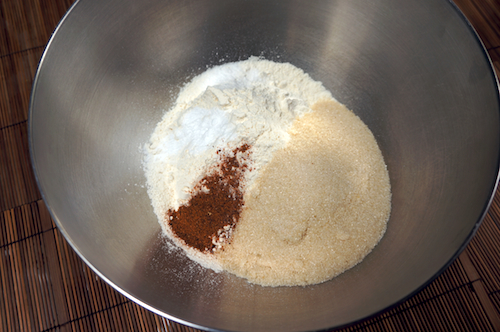 Next the wet ingredients. Melt the butter (sometimes I use half coconut oil), then mix with plain yogurt, vanilla and eggs. I didn't show the eggs here, because after I added them it all just looked like yellow liquid in a measuring cup.
The soft pulp of hachiyas is great for baking, without the trouble of cutting or mashing. Picky bakers can puree and strain the flesh, but there really is no need. Pull the stem off, then let the pulp fall out. I take a fork and scrape the rest off the thin skin. The skin is so thin, it's not a big deal if some gets in.
Mix wet ingredients into dry.
And pour into buttered loaf pan.
Because it's so moist, the bread falls a bit after baking. But the extra moisture is worth sacrificing a domed top.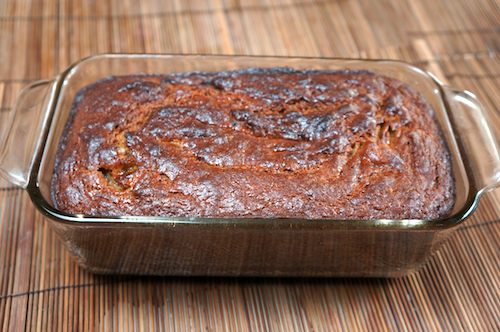 Because the bread is moist, it won't cut well until it's cooled.
The winner bread is on the left; attempt #2 is on the right.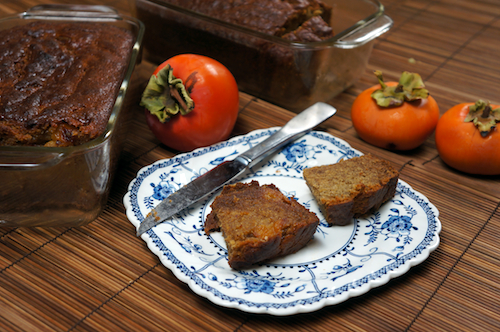 Getting rid of extra sweets is never a problem when you have four kids. We had a taste test after school, and at the end of it half of each loaf was gone.
Persimmon Bread
A super moist bread, flavored with vanilla and nutmeg. Adapted from David Lebovitz, who adapted it from James Beard's Beard on Bread.
Ingredients
1 3/4 cups flour
1 cup sugar
1 teaspoon baking soda
3/4 teaspoon ground nutmeg
1/2 teaspoon salt
1/2 cup melted butter
2 large eggs
1/3 cup plain yogurt (regular or Greek)
2 teaspoons vanilla extract
1 1/4 cup Hachiya persimmon pulp (2 medium or 3 small squishy-soft Hachiya persimmons)
Directions
Preheat oven to 350 degrees. Butter 9-inch loaf pan. If you want to be able to remove the whole loaf from the pan, dust the pan with flour and tap out any excess, or line the bottom with a piece of parchment paper.
In a large mixing bowl, mix flour, sugar, baking soda, salt and nutmeg.
Add yogurt, eggs and vanilla to melted butter and mix well. Make a well in the center of dry ingredients and stir in the wet ingredients and persimmon pulp. Stir until just mixed and pour into prepared loaf pan.
Bake 1 hour, until the loaf is no longer jiggly and a toothpick inserted into the center comes out clean. Cool before removing from pan (and run a knife along the sides first to loosen).
Notes
Pulp from a fully-ripe hachiya persimmon hardly needs mashing. I use a fork to scrape extra flesh off the skin, and I don't fuss if some skin gets in. You could puree and strain the persimmon pulp if you are very particular.
I have used coconut oil for half the butter with no discernible difference.
The original James Beard recipe has one cup each of raisins and toasted nuts, as well as 1/3 cup cognac/bourbon/whiskey (in place of the yogurt I use here).
Bread will keep for about a week, well-wrapped, at room temperature. It freezes very well also.
Here's the link to a printable version.