As someone who cooks often, I am ridiculously appreciative when someone else cooks for me. At a recent brunch, I sampled this gorgeous dish – spinach and chickpeas in a spiced tomato sauce, with sunny-side-up eggs on top – and my memory of it was so glowing I wondered whether I had been overly biased by the fact that I didn't have to cook it or clean up after it.
But this week I got the recipe and made it for dinner at home. Not only was it as satisfying as I'd remembered, I was delighted to find that cleanup was a one-pan snap. It made an easy, healthful weeknight dinner, and it would be a fresh addition to any Mother's Day brunch.
This recipe was created by the awesome Pam Anderson – not the Baywatch babe, the bestselling cookbook author and former Cooks Illustrated executive editor – for brunch at the cozy Big Potluck food blogging conference she runs with a few friends, including her two fantastic daughters, Maggy and Sharon. The conference felt like a relaxed gathering of friends, in part because the Big Potluck team planned, shopped for, prepped and cooked the wonderful food themselves.
Dozens of attendees carried in potluck dessert contributions from home. I brought spiced candied pecans and sampled too many of the others (two favorites I'd love to try making were a supermoist apple pie coffee cake and an addictive granola with coconut, cardamom and pistachios). Fortunately there was plenty of healthful food around to balance all the sweets.
Pam and her daughters developed this recipe to take advantage of the fresh, organic California produce (Earthbound Farm was one of the conference sponsors), and it does that beautifully. Even my 12-year-old relished the meal, and it's the first time he's ever eaten a full cup of spinach in one sitting (obviously I kept casually mum on how much spinach was in it).
This is an easy dish to put together. It cooks on the stovetop and goes straight into the oven, skillet and all. I'm always looking for easy ways to serve eggs to a crowd, and this covers both egg and veg in one pretty, convenient package.
Soften onions and garlic in olive oil, and heat cumin and oregano until fragrant. I'd love to try this with smoked paprika when I finally get moved (don't ask) and can find my spices.
Add chickpeas.
Add tomato sauce – smooth or chunky both work well. Season with salt and pepper to taste.
Add the spinach in large batches. It wilts very quickly as you stir it in.
Use a spoon to make indentations in the mixture for the eggs.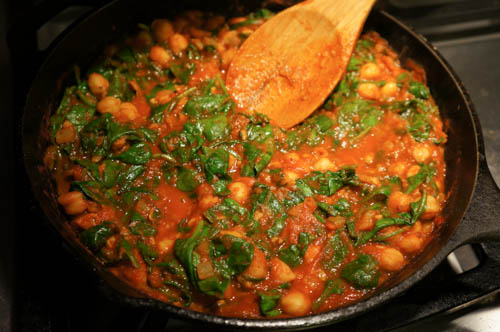 If you're nervous about breaking a yolk, you could crack each egg into a bowl before pouring it in. Sprinkle a bit of salt and pepper on top. Parsley or other fresh herbs would be wonderful if you have some (I didn't).
Into the oven for 12 to 20 minutes, depending on how soft or firm you like your eggs.
I overdid my eggs, but the yolks were still good crumbled with the chickpeas, spinach and sauce.
In the potluck spirit, I'm happy to share this warm skillet of nourishment with you. Make it for Mother's Day, or – even better – have someone make it for you.
Cheers to all the loving, hardworking moms who make this world possible – my own sweet mom, my kindhearted mother-in-law, gracious Pam Anderson and all of you superstar moms out there.
Eggs Over Spinach, Chickpeas and Tomato Sauce
This gorgeous dish makes a perfect centerpiece to brunch, and it's a great way to serve eggs to a crowd. Flavorful, satisfying and healthful, it also makes an easy one-pan weeknight dinner. Adapted from Three Many Cooks, the awesome team of bestselling cookbook author Pam Anderson and her two fantastic daughters, Maggy Keet and Sharon Damelio.
Ingredients
3 tablespoons olive oil
1-2 cloves chopped garlic (about 1 teaspoon)
1/2 cup diced onion
1 teaspoon ground cumin
1/2 teaspoon dried oregano
2 cups cooked chickpeas/garbanzo beans (or 1 can, drained and rinsed)
2 cups tomato sauce
8 ounces baby spinach (about 5 cups well-packed)
2 teaspoons chopped fresh parsley
6 large eggs
Salt and pepper, to taste
Preparation
Place the rack in the middle of the oven and preheat to 350 degrees F. You may bake the dish in a large ovenproof skillet (eg cast iron) or 1-1/2 quart casserole pan.
Heat the olive oil over medium heat in a large skillet. Add garlic and onion, cooking until softened. Add cumin and oregano and heat until fragrant. Add the chickpeas and tomato sauce.
When the sauce is hot, add the spinach in batches, stirring well as the spinach wilts (if your tomato sauce is very thick, you may need to add a bit of water when cooking the spinach). Remove the pan from the heat and season to taste with salt and pepper.
Make 6-8 indentations in the tomato-garbanzo-spinach mixture (transfer first to casserole pan, if using) and crack one egg into each indentation. Season eggs with salt and pepper, and sprinkle the parsley over the top. Bake until the egg whites have set and yolks are to your desired doneness, approximately 12 minutes for runny yolks, 15 minutes for medium and 20 minutes for hard. Watch eggs carefully as time gets close. Serve hot.
Serves 6.
Notes
This dish converted chickpea-doubters in my household. But you could always substitute beans or lentils.
Play around with spices if you like (I can't wait to try this with smoked paprika). Fresh herbs would be especially nice on top (a little feta or queso fresco on top would be great too).
Here's the link to a printable version.