Veggie burgers have hit the big time. No non-vegetarian would choose fake bacon over the real thing, and only a desperate teetotaler would drink near-beer. But veggie burgers have become more flavorful and creative as mainstream ground beef has become sketchier, and now you'll find plenty of omnivores choosing a tasty veggie patty over beef.
It's hard to beat the simplicity of a beef burger: take a hunk of ground meat, squish it into a puck shape and throw it on some heat, no seasoning needed. A veggie burger takes more work. But the finished product has all the comfort of a real burger with more nutrients, no greasiness and no guilt.
Let's put it this way: it's a whole lot more fun than eating salad.
Veggie burgers are kind of like falafel. Made with seasoned ground chickpeas, falafel are like meatballs but different and in many ways better. (If you live in Silicon Valley, you can get the best falafel of your life, stuffed inside an unbelievably fluffy homemade pita, for $5 at Falafel Stop in Sunnyvale). And similar to falafel, veggie burgers pair well with all kinds of fresh add-ons.
My childhood friend Lisa, visiting from Boston, texted me recently to report that she'd just had the best veggie burger OF HER LIFE at Super Duper Burgers at a nearby mall. This was a pretty big statement, considering that Lisa has had the cult favorite Northstar Cafe burger in Columbus, Ohio. The ingredients to the fabulous Northstar burger are secret, except for the touch of roasted beets, which gives the patty a distinctive pink color like fresh ground meat.
But the Northstar burger is served simply with lettuce and sliced tomato. Turns out it was the toppings at Super Duper Burgers that won Lisa over: hummus, cucumber, pickled jalapeños, grilled onions, bleu cheese, avocado and pickles.
So this weekend Lisa came over with a full veggie burger bar, complete with homemade patties, and we had an epic meal followed by an epic sleepover – Lisa, her two-year-old twin girls, three old friends plus one spouse (who wisely went home to sleep), plus the usual six of us and my mom, who is staying with us while she fixes up her house. Lisa made a black bean and quinoa veggie burger recipe she likes. And we piled on the toppings.
Lisa's recipe is straightforward and easy, with a slight southwest flair from corn, cumin and chipotle pepper in adobo. But I turned to the best copycat Northstar recipe around, with input from real Northstar insiders, from the kitchn, to see if I could make a slightly more burger-y, less southwest taste. Based on brown rice, black bean and grated roasted beets, the Northstar copycat wasn't a recipe I had ever been motivated to try at home (beet grating and white cabinetry can't be a wise mix). But from it I could steal some veggie burger smarts.
I took the Northstar-inspired seasonings – primarily smoked paprika to mimic the char of a meat burger – and brought them to Lisa's simpler veggie burger recipe. As with anything, a major benefit to making your own veggie patties is that you know what goes in them – and there is a lot of sodium, filler and worse (can you say soy protein isolate?) that goes into commercial veggie burgers. Compared to the inexpensive ingredients, you pay a ridiculous markup for pre-made veggie patties. At home you can make a batch and freeze it for easy future use.
Quinoa cooks up faster than brown rice and doesn't take much attention. When I make it ahead of time, I just bring the water to a boil for a few minutes, then cover it, turn it off and leave it on the stove until I'm ready to use it.
The only other ingredients that need cooking are the onions and garlic. Cook them up with a bit of salt to draw out moisture.
Rolled oats, some of which blends up into oat flour.
A can of black beans, rinsed and chopped/mashed.
Season the beans with onions, garlic, tomato paste, frozen corn and chopped cilantro (cilantro haters sub in parsley, grated carrot or other veg of your choice).
Northstar-inspired seasonings: smoked paprika, cumin, coriander, thyme and a dab of brown mustard (someone at Northstar once told me they use Zatarain's creole mustard in their salad dressing, but a spicy brown mustard will do fine).
One chipotle pepper in adobo sauce gives additional smokiness without making the burgers noticeably spicy.
Add in quinoa, oats, oat flour and an egg to help with binding (vegans can omit the egg, but the burgers will need some extra compacting and careful handling).
I like to divide the mixture into six equal balls first, then press them down into patties. As with meat, it's helpful to make patties that are slightly depressed in the center; the patties shrink as they cook, and a thinner middle will help keep the patties from cracking too much at the edges.
Refrigerating the patties for a few hours helps them hold their shape. This is my head-to-head test of the Northstar-spiced variation vs Lisa's regular version. You can also freeze the patties like this and transfer them to a ziplock bag for future cooking.
If you're making veggie burgers in quantity, it's easiest to cook them all at once in the oven. But if you're only cooking one or two at a time, the stovetop is faster.
Mix up a little special sauce: greek yogurt, honey and mustard. A little adobo sauce from the chipotle peppers adds a great spice that I love, but the sauce is also soothingly sweet and cooling without.
Toast the buns (at the party, our friend Grace spread the buns with a little mayo and toasted them face-down in a skillet; here I just grilled them dry in the skillet after the patties were out) and prep them for the patties. Super Duper Burgers is right – hummus and cucumber are a perfect match for a veggie burger. And if you like a little heat, pickled jalapeños add a great tart bite.
I tested bleu cheese (Lisa's favorite) against Northstar's sharp cheddar. Even though I'm normally not huge on bleu cheese, I had to admit the melted gorgonzola was a pretty awesome touch. With dollop of special sauce, you definitely won't need ketchup.
There's no sacrifice in these veggie burgers.
Even my burger-loving husband didn't miss the meat. And if you want to eat it the old lettuce-tomato-ketchup way, you can do that too.
A veggie burger in Lisa-land is over the top, with bacon, avocado, two kinds of hummus, two kinds of cheese, pickled jalapeños, cucumber, romaine, tomato, special sauce and gorgeously golden, glossy brioche buns.
I'm not a calorie counter, but the stealthiness of brioche always kills me – a quick glance at the label confirmed my suspicions that the buns had more fat and calories (400!) than the veggie patty itself (~250). If I'm going to indulge, I'd rather have my burger on a flamingly buttery croissant.
But the kitchen is a fun place with Lisa in it. She also made the cutest homemade Hostess cupcakes, which for me are an unattainable marvel of patience and artistry.
Everyone agreed they were the best veggie burgers ever. But we were so full afterward no one could even attempt a cupcake. Fortunately the epic sleepover meant another day of good eats.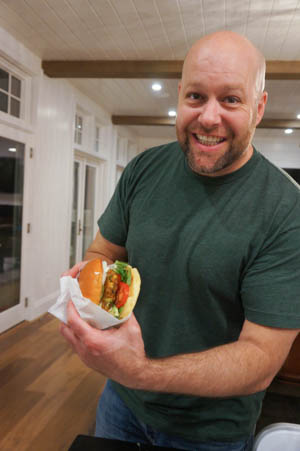 Super Duper Veggie Burger
My friend Lisa and I did a mash-up of two greats: the veggie burger from San Francisco's Super Duper Burgers and Columbus, Ohio's famed Northstar Cafe burger. Adapted from Prevention RD with inspiration from the kitchn.
Ingredients
1/2 cup dry quinoa
1 cup water
1 tablespoon olive oil
1 medium onion, chopped
3 cloves garlic, minced
1/4 teaspoon salt
1 15-ounce can black beans, drained and rinsed
2 tablespoons tomato paste
2 teaspoons brown mustard
1 chipotle chile in adobo, minced
2/3 cup frozen corn kernels
1/2 cup cilantro, chopped
1 tablespoon smoked paprika
1 teaspoon cumin
1/2 teaspoon corriander
1/2 teaspoon dried thyme
1 egg
3/4 cup rolled oats (1/4 cup to be blended into oat flour)
Special sauce ingredients
1/2 cup Greek yogurt
1 tablespoon honey
1 tablespoon dijon mustard
Adobo sauce from canned chipotle chiles, to taste (optional)
Recommended toppings (any or all)
Hummus
Sliced cucumber
Bleu cheese
Sharp cheddar cheese
Pickled jalapeños
Avocado
Bacon
Lettuce
Sliced tomato
Preparation
Rinse quinoa and place in small saucepan with 1 cup of water. Heat to boiling, then reduce heat to low. Cover pan and cook 10-15 minutes until the water is absorbed. Remove from heat and leave covered. (This step can be done ahead of time.)
Heat oil in a skillet over medium heat. Add chopped onion and garlic, along with 1/4 teaspoon salt, and cook, stirring occasionally, until onions are soft and browning.
In a food processor or blender, process 1/4 cup rolled oats into a fine flour. Remove to a bowl and set aside with additional 1/2 cup of rolled oats.
Add rinsed black beans to food processor. Mix in short pulses until beans are roughly chopped and somewhat pasty. Transfer beans to a mixing bowl.
To the mixing bowl, add tomato paste, mustard, chipotle chile in adobo, corn, cilantro, paprika, cumin, coriander and thyme. Mix well with beans and season with additional salt and pepper to taste.
Add quinoa, oats, oat flour and egg. Stir until well mixed. Form the mixture into 6 well-compacted balls of equal size. Press each ball into a burger-sized patty with a slightly depressed center (a thinner middle will help keep the edges from cracking as the patty cooks and shrinks). Place the patties on a baking sheet, cover with plastic wrap and refrigerate for at least a few hours or overnight.
Mix yogurt sauce in a small bowl, adding adobo sauce from the chipotle chiles as desired for spice.
For oven cooking: Preheat oven to 400 degrees F. Place patties on a greased baking sheet and cook 10-12 minutes until golden brown and crispy. Flip patties over and cook another 10 minutes, adding cheese to melt, if you like, in the last couple of minutes.
For stovetop cooking: Heat a griddle or heavy skillet over medium-high heat. Add olive oil to pan and cook patties 4-6 minutes per side, until browned. Add cheese at the end, if you like, turn heat to low and cover pan until cheese is melted.
While patties are cooking, toast hamburger buns. Spread a thick layer of hummus on bottom bun and lay sliced cucumbers on top. Place cooked veggie patty on top, add 1 1/2 tablespoons of special sauce, and cover with top bun. Serve immediately.
Makes 6 super duper veggie burgers.
Notes
For vegan, skip the egg (make sure you compact the patties extra tight, and handle them carefully with a flat turner).
For gluten-free, use lettuce leaves in place of a hamburger bun.
Cilantro haters can substitute something else: parsley, grated carrot, finely diced sweet pepper or zucchini. Just make sure pieces are small enough to cook quickly, or mince up any pre-cooked veg.
Patties may be frozen first, then stored in a ziplock bag for future use. Bake frozen patties using oven method to make sure they heat through.
Here's the link to a printable version.