What to do this holiday season after presents are opened, food eaten, conversation dwindles and people are sneaking off with cell phones to text friends or check game scores? Fresher than board games, more interactive than puzzles, way more fun than talking about who in their right mind would vote for Trump: make personalized emoji avatars for yourself and your loved ones.
Once you start, everyone, old and young, will want to get in on it. It's more unifying than Adele.
Bitmoji, a free iOS/Android app to create personalized emoji cartoons, was launched in 2014 by Bitstrips, which originally created personalized comic strips for use on Facebook. Create your own avatar – choosing hair styles, facial features, body type and clothing – and Bitmoji generates dozens of mini-cartoons featuring your character that you can text message or email to friends and family. The expressively illustrated messages run the gamut from sentimental to profane.
You can craft your bitmoji avatar alone, but it's not nearly as amusing as doing it with friends. In a group, everyone can help each other fine-tune their avatars, weighing in on shapes of faces, eyebrows, eyes and noses. In the end, you can vote on whose has the best likeness.
Once you've finished your avatar, Bitmoji generates a hilarious array of cartoons featuring your avatar, tweaking your facial expression to look happy, serious, excited, angry, hopeful, or mock-seductive, depending on the scenario. It's super goofy and seriously funny.
Start by choosing from the more exaggerated bitmoji style or the more realistic bitstrips style.
Seems to me the preference largely comes down to which one has a hair selection to mimic your own. Facial features are exaggerated in either style, but matching hair goes a long way to making the avatar recognizably you.
Facial hair is key too. For example, here's my friend Russ's bitmoji-style avatar:
And this is the real Russ (about to eat a fully-loaded super duper veggie burger).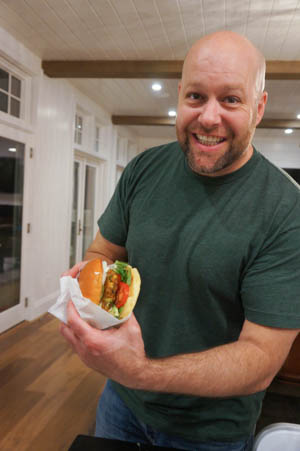 My bitstrips style hair does actually look a lot like my real hair. As a kid I had typically straight Asian hair, but somewhere along the line it got wavy. I have mutant freckles too.
Your bitmoji can send someone a boost…
A boo…
Or just some sass.
I love seeing the cartoon me say something I would never say in real life.
Cartoons get updated weekly, so there's always something fresh and timely. Some make fun of internet memes:
Or tap into pop culture:
Bitmojis take the text out of texting. I would love if someone sent me a random Travolta.
You can spend all day trading bitmoji messages with people sitting in the same room as you.
After weeks of holiday build-up, a day of lounging and laughing with loved ones is just what we all need. I hope a bitmoji break helps you have less of this
and more of this.
Wishing you good meals this holiday season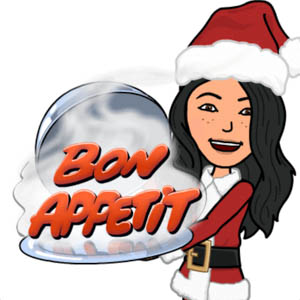 and much love.
Note to iPhone users
I recommend you send your bitmoji from the app instead of enabling the custom keyboard. The custom keyboard allows you to send bitmoji directly from your messaging app, but enabling it (or any other custom keyboard on iOS) requires you to give "full access," which gives the keyboard maker the ability to record everything you type. Even though Bitstrips says it does not record anything, I wouldn't feel comfortable giving anyone the consent to do so.
So when you want to send a bitmoji, open the app, skip the "enable keyboard" screen, select the bitmoji cartoon you want to send, and then you can choose what you want to do with it (message, email, Facebook, etc).
And if you've enabled the keyboard but would like to disable it, go to your Settings app, then choose General, then Keyboard, then Keyboards. You can then disable the bitmoji keyboard.