There's isn't much that can cheer deflated San Francisco 49er fans on this wistful Super Bowl Sunday, but I thought this snack might ply a little smile of nostalgia from local natives – the bygone pizza-potato from Menlo Park's own Round Table Pizza.
Round Table isn't one of those Wolfgang Puck-style, avocado-goat-cheese California pizzas, it's a regular place with Camelot-inspired pizza names like "Montague's All-Meat Marvel." During my teen years, when loaded potato skins were a popular restaurant item, some franchises offered pizzatatoes, small baked potato shells spread with thick, spicy pizza sauce and bubbling with melted cheese.
Pizzatatoes are fun, easy, silly finger food to make at home. The Round Table way is to dip the hot, cheesy potatoes into cool ranch dressing, so they should fit right in with buffalo chicken wings in a Super Bowl spread.
You'd never call a pizza potato health food, but a baked potato is great nutrition. Potatoes can get unfairly dismissed as empty carbohydrates, but they are an excellent source of potassium, vitamin C, vitamin B-6 and fiber. Potatoes are one of the dirty dozen fruits/vegetables with the highest pesticide residue, so it's great to buy organic if you can.
Tomato paste, used in pizza sauce here, has a high concentration of lycopene that is more bioavailable than lycopene from fresh tomatoes – without the flavorings and additives found in many other processed tomato products.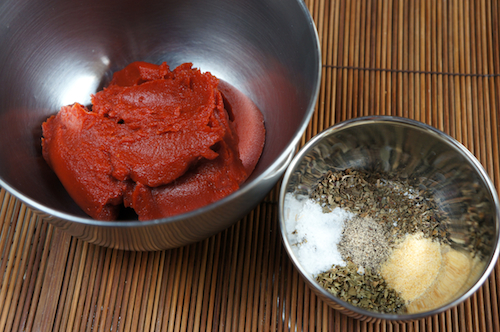 A guy from Modesto who used to work at Round Table wrote about its pizza sauce and pizzatatoes on his blog. It's a pretty faithful reproduction (thanks, Fat Dave!).
I was surprised to learn that Round Table's spicy pizza sauce is just tomato paste and water, mixed with spices. No cooking involved, and you can stir it up a couple days ahead and store it in the refrigerator.
I used basil, oregano, garlic powder, salt and pepper. I left out the crushed red pepper for my kids, but I do like it best with a little heat.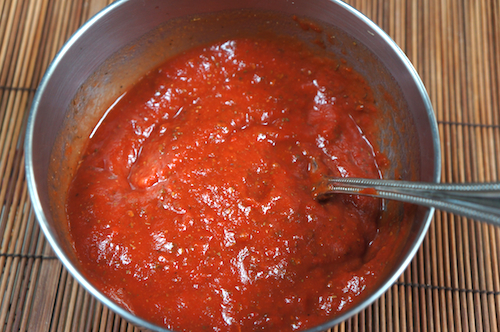 Scoop a large spoonful of potato flesh from the center of the baked potato halves. You could remove more for a thinner potato shell, or leave more potato for a thicker base. Salt and pepper the potato shells.
Sauce should be proportional to the potato thickness. Plain potato is bland, so you'll want to load it up with some flavor.
Mozzarella, of course. Round Table adds a bit of cheddar on top, but it's not necessary. You can add toppings too – vegetables, pepperoni, crumbled sausage.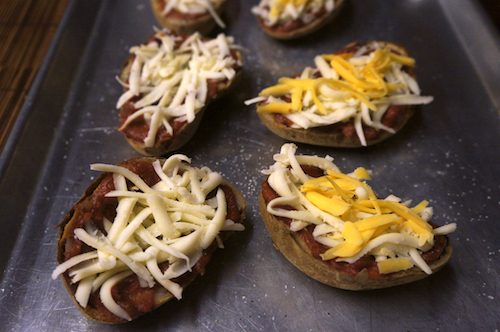 A few minutes in a very hot oven, and they're good to go.
Careful biting in; potatoes hold a lot of steam. If you're inspired to make your own ranch dressing, Pioneer Woman has a recipe that gets raves.
I don't keep ranch dressing around (you know I'm fixated on balsamic vinaigrette), so the most I'd add is a little extra sauce on the side.
A Super Bowl party is a perfect opportunity to make a dip – the pleasure of enjoying it without the risk of eating it all yourself. Here are a few easy ones from the recipe archives:
Super Bowl dips
Pizzatatoes
Thick spicy pizza sauce and bubbly cheese over freshly-baked potato shells. A bygone favorite from the west coast franchise Round Table Pizza. Recipe adapted from Fat Dave's Home Cookin'.
Pizza sauce ingredients
1 6-ounce can tomato paste (plus 1 can of water)
1 tablespoon dried basil
1 teaspoon dried oregano
1/2 teaspoon garlic powder
3/4 teaspoon kosher salt (1/2 teaspoon table salt)
1/2 teaspoon black pepper
Crushed red pepper, to taste
Additional ingredients
Small potatoes (3-4 inches in length)
Mozzarella cheese, shredded
Other toppings, if desired
Preparation
Bake potatoes ahead of time: Preheat oven to 400 degrees F. Wash potatoes, scrubbing well with a vegetable brush (in a pinch I've used a stainless steel scouring pad – not the soapy kind, of course). Poke a few holes with a fork and bake for 60-75 minutes, until potato pushes in with a little pressure or a fork pokes in easily. Remove and let cool at room temperature.
Preheat oven to 500 degrees F. Cut the potatoes in half lengthwise to make two wide potato halves. Scoop out a large spoonful of potato flesh from the center of each half. Remove more if you prefer a thinner potato shell, but if you get much closer than about 1/2″ to the skin, it may break apart.
Spread about a tablespoon of pizza sauce (more or less as you like) in the spooned-out potato surface. A thicker shell will need more sauce to keep the pizzatato from being too bland. Sprinkle shredded mozzarella cheese on top of the sauce.
Bake for about 10 minutes, watching closely as time gets close. Cheese pizzatatoes may be golden brown after only 8 minutes; if you add other toppings they may take 12-14 minutes. Serve with ranch dressing, if you like, or a bit of extra sauce on the side.
Notes
Sauce recipe makes 1 1/2 cups – enough for 18-24 small potato halves.
For pizzatatoes the Round Table way, add a bit of shredded cheddar on top of the mozzarella.
Potatoes are one of the dirty dozen fruits/vegetables with the highest pesticide residue, so it's great to buy organic if you can.
Here's the link to a printable version.