Is it too mean to write about spring break in Hawaii when it snowed again in Ohio this week? I'm not here to wax lyrical about the sand (soft and powdery), or the sea (warm and iridescent turquoise), or the air (marvelously dewy). The beach is the beach – but Hawaiian food is its own unique, quirky, hearty blend that you don't get anywhere else.
Hawaii's diverse culinary roots, drawing from China, Japan, Korea, Philippines, and Portugal, trace back to the sugarcane plantations that took over Hawaii in the 1800s. The formerly isolated Hawaiian population had been decimated by illnesses carried by foreign travelers, and plantation owners needed to import labor. The first workers were brought in from China in the 1850s, but later waves of laborers came from Japan, Korea, the Philippines, and the sugarcane-growing Portuguese islands of Madeira and Azores.
A basic Hawaiian breakfast – rice, eggs and Portuguese sausage (a version of linguiça) – looks plain, but it is deceptively awesome. It's like fried rice without the work, made even better with a golden runny yolk to coat the sticky rice. Pan-fried rounds of portuguese sausage, spiced with garlic and paprika and smoke-cured, infuse a rich, spicy, meaty flavor to the plate like pepperoni on pizza.
Carrying the culinary history of Hawaii – rice from Asia, sausage from Portugal, eggs from everywhere – this meal holds to the Asian convention of breakfast as a savory meal no different from any other. You could have rice, egg and Portuguese sausage as a meal any time of day.
So popular is this combo, even McDonalds and Burger King in Hawaii offer it on their menus, along with the sister dish, rice, egg and fried Spam. For much of America, spam first brings to mind electronic junk mail, with the rounded blue tin of chopped ham a distant second. But in Hawaii and Guam, Spam is a staple meat, introduced by the occupying American military post-World War II, that has since held a proud and permanent place in both home and restaurant kitchens.
I have to admit that Spam is pretty tasty in spam musubi – basically fried Spam over a base of rice, like sushi, with a little teriyaki glaze – but when it comes to Hawaiian breakfast, it has to be Portuguese sausage for me.
You won't find Hawaiian Portuguese sausage outside of the islands, but if you look around, you can probably find linguiça (pronounced leen-GWEE-suh) somewhere around you. When we got back to California, my mom spotted a giant package of it at Costco. Each huge link is twice the size of a regular sausage, about a half-pound. Fortunately we have family around to share with, and a freezer.
If you have leftover rice, this is an especially easy breakfast. Linguiça is already cooked, so pan frying a few slices takes no time at all. Make eggs any way you like them. In Hawaii they use an ice cream scoop to serve out the rice, and it's always two big scoops. Eating in Hawaii is not a dainty affair.
All week we had breakfast at our rented place, but for our last meal we went out for a real Hawaiian breakfast. It wasn't until after we'd dug in that I thought to grab some snapshots.
For my brother it was scrambled eggs with Spam.
My sister-in-law had cinnamon french toast with bananas and macadamia nuts, made with Hawaiian sweet bread. (Sometimes in Hawaii you'll find coconut syrup, which is a treat. But here we had the regular stuff.)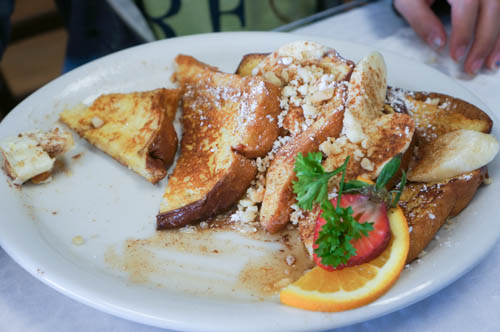 Hawaiian sweet bread, kind of a sweet version of challah, also came from the Portuguese. You've probably seen the King brand in stores, which is widely distributed on the mainland. But in Hawaii there are loads of local bakeries that make their own versions, both in standard loaf shape or in big puffy rounds.
Aside from sausage and sweet bread, the Portuguese also contributed doughnuts, called malasadas, to Hawaii. Leonard's Bakery makes them to order, so they are always fresh and steaming hot. Leonard's has a retail store in Honolulu and a malasada truck that sits in a parking lot across the island. We loved the striped malasadamobile.
They have regular sugar-coated and cinnamon-sugar malasadas, or filled versions with either custard, haupia (coconut cream), or chocolate cream. Can't go wrong.
The malasadamobile is in the same parking lot as a great shave ice stand. Hawaii's version of a cold treat popular in parts of Asia, shave ice (not "shaved") is an amped-up sno-cone, with superlight, superfine ice. Syrup flavors range from standard (strawberry, grape, etc) to tropical (coconut, pineapple, mango, guava).
You can get shave ice over a scoop of vanilla ice cream or have condensed milk on top. Both add a wonderful creaminess to the slushy syrup.
Good food comes from some unlikely places in Hawaii. 7-Eleven's spam musubi was voted best on the island. And this tiny stand next to Sports Authority has the best shave ice we had.
Shave ice comes with a spoon for scooping and a straw for slurping. My daughter got honeydew, lychee and haupia, with condensed milk and mochi balls (chewy nibs made from sweet rice flour) on top. Not as colorful as some, but super creamy and refreshing.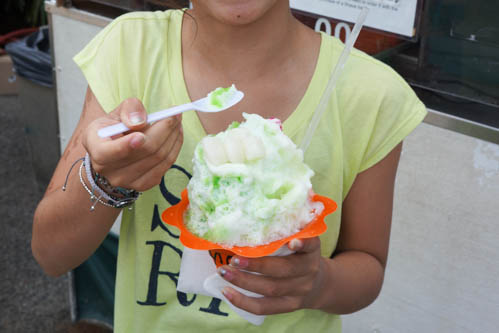 Are you getting these sense that we ate a crazy amount of sweets in Hawaii? It gets worse.
We bought a chocolate-haupia pie from Ted's Bakery, which is conveniently carried in grocery stores all over Oahu. Layers of whipped cream and coconut pudding over deep chocolate…it didn't last long.
Finally the best treat of all – the famous hula pie from Duke's, an eatery on Waikiki beach named after five-time Olympic swimming medalist Duke Kahanamoku. With a chocolate cookie crust, a mountain of macadamia nut ice cream, a generous pour of chocolate fudge and extra macadamia nuts on top, it's a dessert made for sharing.
Everyone gets an extra-long hula pie spork. Then it's like a sword fight, with everyone stabbing into the fast-disappearing slice. We should have videoed it, but we were too busy holding our own in the spork battle.
And after it was over, we admired the fact that hula pie gets not only its own utensils but its own personalized plate as well.
Good thing we shared, because we went out for shave ice afterward. Yes we did.
I feel like I just went to confession. I did eat all that. In a week. And I didn't even show you the real meals.
Now my Hawaiian breakfast looks practically like diet food. In fact, it is restrained compared to another Hawaiian breakfast favorite, loco moco, which is rice, eggs, hamburger patties (!)…with thick gravy on top.
No, I did not have any loco moco. What do you take me for, a glutton?
Seriously, it's been an austerity week on the food front since we got back from spring break. But it was all worth it. When I recover, I can have this little taste of aloha at home. But you can have it right now.
Related links
Breakfast of Hawaiians (rice, eggs, Portuguese sausage)
The classic Hawaiian breakfast – basic but so very good. Hawaiian Portuguese sausage, garlicky and flavorful, is a variation on Portuguese linguiça.
Ingredients
Linguiça (portuguese sausage)
Egg(s)
Rice (ideally Japanese short-grain)
Preparation
Slice rounds of linguiça and pan fry over medium heat on both sides until browned.
Prepare egg(s) as you like them.
Scoop the rice with an ice cream scoop, Hawaiian-style. Add eggs and sausage and enjoy.
Notes
Spam variation: slice and pan fry Spam instead of linguiça.
Fried rice is also fantastic if you have it.
Here's the link to a printable version.