The fact that I cannot buy anything casually is tied directly to my hard-knocks immigrant training not to throw useful things away. Anything I buy, I'm likely to keep forever – which means I'd better love it.
So the things I geek out over in the kitchen are multi-use, smartly designed items that are priced well for their quality. Whether it's a can opener or a cooktop, I do my research to make sure I get the best one at the best price.
I know these are not the things that will matter on my deathbed. But I can't help myself.
Stackable wine glasses
Take these glasses, for example. I'm not oenophile enough to stockpile multiple shapes of wine glasses, especially considering the impractability of tall-stemmed glassware around energetically gesticulating children. I like stemless glasses, but there's something cooler about these casually squat stemmed glasses: they stack.
I love the efficiency of stacking, because my no-waste philosophy is to stock a quantity of durable, inexpensive dishware and glassware so that I can have a crowd of kids and adults over without buying and throwing away a bunch of disposables. Stackable glasses take up half the cabinet space of singletons.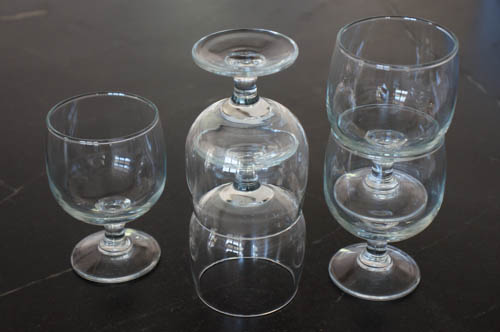 These short-stemmed cups are also stable enough for kids to use for drinks, or ice cream. They fit well in a dishwasher. And they're just $3 each or $30 for 12 at Crate & Barrel. Sold!
Standing flatware
This looks like a regular set of flatware. Aside from being nicely balanced (don't you hate it when handles are so heavy they flip off the plate?) and not sized for giants (another pet peeve), there's something special about the knife.
It stands! All by itself, like a one year old.
So instead of the flat side rubbing a bunch of gunk on the table, just its fine sharp edge touches the surface. And it's a legitimately sharp edge – this flatware is made by Henckels – so it's not one of those knives that doesn't really cut anything.
Also nice is that there's a flat space to press with your forefinger as you cut – much more comfortable than pushing down on an edge.
I love this flatware in Ohio and bought it again in California. I handed down our old flatware set of 12, a gift from my mother-in-law when we moved to California a dozen years ago, to my happy mom. Now that we're six, a set of 12 doesn't even get us through the day.
Prices on 18/10 stainless steel have been rising in recent years, so this Henckels set on Amazon is nearly twice the price I paid when I bought it in Ohio a few years back. These days eBay is a better bet – there are dealers selling new sets at a discounted price.
Wide stainless steel bowls
I have a real thing for wide mixing bowls. I use the wide ones on the right much more often than their high-sided cousins on the left.
I know this is a silly number of bowls. But at the restaurant supply store, these lightweight ones were only a dollar or two each – and I love and use them all. I bought one heavier-duty 8-gallon bowl also, and you would be surprised how often I use it. And of course I love how all the bowls store efficiently inside the big mama.
The big, wide bowls are really great for mixing large quantities. When the kids help, they are less apt to tip over the wide bowls, because they can see in more easily. With the high-sided bowls, they're always grabbing to look.
Because I'm a lazy baker, I always end up kneading in the wide bowl. It saves cleaning countertop (before and after).
Restaurant supply stores (like KaTom) are good sources for wide stainless steel bowls. Lightweight mirror-polished bowls (like Browne Foodservice ones) are inexpensive, but shipping can be high. Check to see if you have a retail restaurant supply store in your area, such as Wasserstrom. And Amazon carries some heavier-weight bowls, like the 8-gallon Vollrath one I have.
Mini serving tongs
I adore these mini stainless tongs for serving. Everything in my house is served family-style, and in a buffet it's a nuisance to have serving utensils that require two hands. I'm showing this mini (7-inch) pair next to my full-size (12-inch) tongs.
There are a lot of flimsy tongs out there. These are good but not so easy to find, unless you lucky enough to have a Daiso Japan store near you. Someone does sell them on Amazon, though, for $6.99 including shipping. At the store they're only a couple of dollars, an excellent value.
Not-boring shelf liner
It's really middle age when you geek out over shelf liner. But this isn't the nasty peeling adhesive printed stuff from the '70s, it's smart and functional.
I use cushy, grippy shelf liner in my deep dish drawers. It helps keep the dishes from shifting without having to use one of those cumbersome peg divider systems.
In most places my favorite is the ridged plastic liner, which protects my painted shelving and allows for air circulation around and in the glassware. I don't ever use the heated dry on my dishwasher, so my glassware often is a little damp when I put it away.
The indestructible Duralex picardie tumblers, which can handle hot beverages as well as cold, are classics for good reason.
This liner is also great under spill-prone areas, like under sinks. The 12-inch width is perfect for upper shelving, while the 24-inch width works for lower cabinetry and deep drawers.
Or under sticky oils and vinegars.
I also like it in bathroom drawers, for leaky toothpaste tubes.
Grease monkey gadget
It's outside the kitchen, but the gadget I've been using too much lately is this self-sufficient jump battery, a total lifesaver when you have a car with a bum battery. Plug it into a wall to charge, and when you need it, this handy tool is your best friend (and maybe better, since it's immediately available).
Using this little guy is much easier than having to jump your car from another car, which is near impossible anyway when your dead car is parked head first in a single-car garage.
Apropos of nothing
The kids and I made it to Ohio this week, and my saint of a brother-in-law picked us up at 1 a.m. (don't feel bad for us, it was only 10 p.m. Pacific time; he had to go to work in the morning).
Traveling with four kids aged 5 to 12 is a breeze compared with even one 18-month-old. But with the older kids you get discussions like this:
At security checkpoint, kids get quizzed on names and ages. The security agent notes that they are all 12 and under.
Agent: "You can all can keep your shoes on."
12-year-old: "Mom, you too?"
Me: "I don't think I qualify as 12 and under."
10-year-old: "Or 75 and older." (the age at which you no longer have to take your shoes off again)
8-year-old, excited: "Mom, are you closer to 12 or 75?"
Me: Groan. "Good question. Figure it out."
Kids laugh and take bets as they calculate it out. By a tiny margin, I am closer to 12 than 75. I think the kids found this as much of a relief as I did as we made our way to the gate.