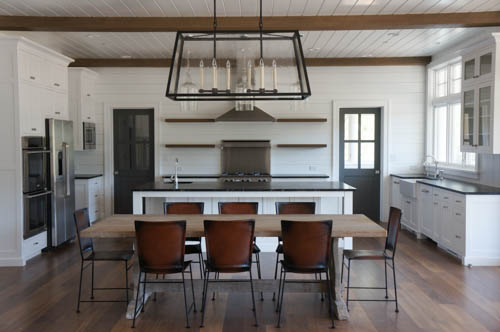 Well, we did it. We finally moved into our new place, more than three years after we bought a leaky old house on a lot with potential.
Funny how much can change in three years. Suddenly I'm not the mom loaded down with kids in her arms. My first child just graduated from elementary school, and my last graduated from preschool. After stretching up half a foot in the last year, my oldest is about to be taller than me.
I'd become so used to family obligations increasing – more and more kids, plus my father-in-law's illness, and my dad's – that it's jarring to find that the peak of those family demands has passed.
Gone is my dad, the quiet man with all the answers, and my father-in-law, bright source of fun and wit. My kids are independent and capable, and the oldest of my many nieces and nephews have now left the nest. The landscape has changed.
For the next 15 years, this house will be a gathering place for kids, family and friends. I'm glad it's done. I would never do it again.
In my heart I'm a hermit, living in a little cave (with running water, a down comforter and an internet connection). In my fantasy future I would end as I began, in a small apartment in New York City with a bed and some cookware. Apologies to Connecticut, but when the time comes I will be relieved to leave the house-centric life behind.
Seriously Lilian, you don't sound too psyched.
Building a house might be fun if you are the kind of person who loved planning your wedding – because the number of decisions involved in building a house is sort of like orchestrating one wedding each month, again and again.
When the job site was hopping, I knew the next invoice would be a whopper. When the job site was slow, it meant I wasn't making decisions fast enough. Either way, I had a sick feeling in my stomach the whole time.
But you already built a house in Ohio. Wasn't it easier the second time around?
Unlike Ohio, where permitting is a friendly, perfunctory exercise, building in Silicon Valley is an endurance test of Joseph Heller-worthy bureaucratic hurdles.
Need to dig? Hire a soil engineer to test your dirt. If there's anything remotely undesirable about it, you may have to pay to haul it halfway to Mexico.
A biologist will make sure you preserve the habitat for dusky wood rats and their twiggy nests in trees. Because what the world needs is more rats.
That's before construction even begins. It only gets crazier from there.
But once you start, there's only one way out – to finish. So we did.
You're home-improvement buzzkill.
Home improvement can be awesome – building a custom home is the far extreme. Remodeling a bathroom or a kitchen is relatively simple – tweak the layout, pick out finishes. If you have a house with a good floor plan, you can gut the place and transform it entirely – flooring, windows, trim, paint – and it is still dramatically faster than starting from scratch.
When you start moving walls and rooflines, things get more complicated. It's not just the cost involved – it's that the number of possibilities goes up, and that means you need to consider all those possibilities to decide what you really want. Also when you start opening up a house, you may discover issues that need to be resolved before you can continue.
Can we see the place already?
You guys have visited my dream kitchen in Ohio, and though the layout is slightly different here, the shape and function are very much the same. I don't have the vaulted ceiling, or as many windows, but the sun is bright in the Golden State.
I had enough storage in the large island and a separate pantry, so again I opted for minimal upper cabinetry. In Ohio there are windows on the back wall, but here we anchored wood slabs to serve as open shelving. I have no idea what I'm going to put there. But I love the look and the utility.
How about some food?
Soon, I hope! I've been busy hauling boxes, unpacking, washing laundry and dishes. We had the house team over for pizza, but other than that the cupboards are still pretty bare here. I am excited to wrap up moving so I can get cooking.
Oh, and I have some kitchen geekery – fun finds – that I will share soon too.
How do I know if building a custom house is for me?
Imagine this:
What kind of front door do you want? Single or double? What size? How thick?
Stained or painted? If stained, what type of wood? What kind of grain do you like to see? If painted, what color? Same color inside as outside? What kind of trim?
What style door? Two panels, or three, or four? Recessed panels, or raised? What kind of beading detail do you want around the panels?
Do you want glass in the door? Plain or beveled? Clear or obscured? Sidelights on one side? Both sides? On top? Do you want the glass divided? Into how many segments?
What kind of knob do you want? Knob or lever? If it's a knob, do you want it round or egg-shaped? Flat or domed? Smooth or rustic?
What color or finish do you want? Do you want your bolt lock on a separate plate or integrated with the knob? What kind of plate – round, oval, rectangular, or square? Plain or detailed?
What kind of locking mechanism do you want? Mortise or tubular?
What kind of hinge? Ball bearing? How heavy is your door? Rounded edges or square?
If you have the intestinal fortitude for that and a million more decisions like it, go for it. And best of luck to you.
Previous house posts