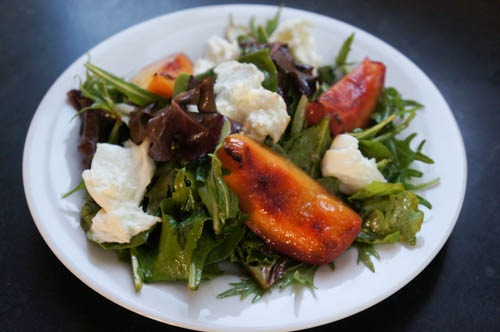 It might be okay that I've discovered the perfect summer salad after summer fruit season is past its peak. When peaches are at their juicy prime, the kids devour them before I get a chance to cook with any. Now it's my turn. I've had this salad five times in four days, and I can't imagine tiring of it before peach season ends.
I first had a version of this salad at the Saveur event in May, and it was so deliciously fruity and creamy I wished I could have a giant portion as both dinner and dessert. I really loved it – and then, because I'm 40-plus, I forgot about it completely. Fortunately my awesome friend Cynthia, Manhattan laywer by day, Brooklyn blogger by night, posted her take on this salad last week. I've been thanking her every day since.
It's hard to find burrata, an extra-creamy version of fresh mozzarella, in Ohio, so I've made this salad with both vacuumed-packed fresh mozzarella (fine) as well as mozzarella packed in water (better). Use the best, freshest mozzarella you can find, and don't sweat it too much. The luscious presence of mozzarella in any form provides a quiet, creamy foil to the sweet softness of the peaches.
You may use peaches or nectarines here, depending on your preference and what's available. Peaches are more likely to be freestone, which are easier to split in perfect halves for grilling. I usually find the texture and flavor of nectarines to be more reliable, but because they are more often stubbornly clingstone, I end up prying off quarters instead of halves.
Because of their smaller size, quartered nectarines are better roasted in oven than cooked on the grill, which works fine since I don't own a grill in Ohio. Roasting is also very convenient for cooking in volume – I fit probably 9-10 nectarines in my baking sheet. For only one or two peaches, a quick sear in a stovetop skillet is the most efficient, unless you have other food to grill.
It pays to make more than you need, as the cooked peaches will keep for a few days to add to future salads, yogurt or ice cream. I make extra for little fingers poaching pre-dinner tasters.
Cooking time depends on the firmness of your fruit. Soft fruit will need only a few minutes to seal the cut surfaces.
Roasting softens the peaches and concentrates their sweetness. But cooking also gives the cut peaches longevity. You can do this step hours or even a day ahead – once cooked, the peaches won't discolor or wilt like fresh ones will.
Of course I love my greens dressed in balsamic vinaigrette. But sometimes I'll be lazy and just shake in some salt and pepper, with drizzles of olive oil and balsamic vinegar, and toss well. Either way, the peaches and mozzarella are the stars of this show; the dressing is backdrop.
This is your basic fresh mozzarella, not as soft and creamy as the balls sold in water. But it is easier to cube in volume when you're making salad for 20.
More industrial than artistic. But no one goes home hungry.
Two mega salads.
And a giant bowl of tomato-sausage pasta, requested by my kind brother-in-law George for his birthday dinner. I also made polenta – topped with extra pasta sauce, or mushrooms sauteed with garlic and fresh thyme – for any gluten-avoiders. Also because I adore polenta.
For a smaller dinner, it's prettier to layer dressed greens with the peaches and torn bites of mozzarella.
It's August, and peaches are still here. And now that I have the recipe to remind me, I should have a full summer to enjoy it next year.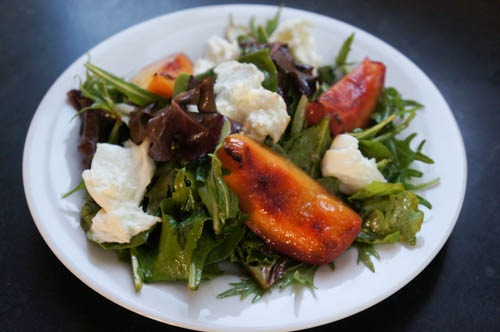 Grilled Peach and Mozzarella Salad
Sweet roasted peaches and milky fresh mozzarella are a heavenly match-up in this glorious summer salad. One of my all-time favorite restaurant salads – thanks to the lovely Cynthia for reminding me to make it at home.
Ingredients
4 ounces arugula or mixed greens (about 3 cups, lightly packed), rinsed and dried
1 large or 2 small peaches (or nectarines), ripe but not too soft
4 ounces fresh mozzarella or burrata
Preparation
For freestone fruit, cut around the pit, starting along the natural crease in the fruit, then gently twist the peach halves in opposite directions to separate. For clingstone fruit, make another vertical cut to divide halves into quarters, then carefully angle the knife in the cut to remove one quarter at a time from the pit.
Peaches may be grilled, seared on stovetop or roasted in oven. For grilling or stovetop: brush lightly with oil first; then grill, first cut-side down, until surface is a bit browned and then cut-side up until fruit is slightly softened; drizzle lightly with honey afterward if the peaches are tart. For oven: place peaches in baking dish, cut side up; sprinkle lightly with sugar or honey, to taste (sweet fruit may need none at all); cook at 400 degrees F for 10-20 minutes, until slightly softened and browned (time depends on how firm your peaches are to begin with).
In a mixing bowl, toss greens well with balsamic vinaigrette to coat lightly (taste a leaf to check). Arrange greens on salad plates or a serving dish, topped with grilled peaches and hand-torn pieces of mozzarella.
Serves 2.
Notes
I find that flavor and texture are more reliable with nectarines than peaches. But peaches in the store are more likely to be freestone, which are easier to split in perfect halves for grilling.
Proportions for scaling up, per person: 2 ounces greens, 2 ounces mozzarella, 1/2 large or 1 small peach. In a buffet with other dishes, you'll probably only need 1/2 that (1 ounce each greens and mozzarella) per person.
Peaches may be prepared ahead and saved at room temperature (if using same day) or refrigerated (overnight).
Here's the link to a printable version.