A melon purchase is a commitment in a way that buying an apple, say, is not. A mealy apple can be philosophically tossed, but a mealy watermelon is a sloppy, head-shaking disposal project.
Summer is the season to practice melon-picking skills, since your risk of getting a total dud is low. Even so, shipments vary in quality, so the first thing to do is scan the melons to see if they look like a good batch. Even the best of a green or overripe batch is probably marginal, so you'll want to find a good group first and then pick the best of the bunch.
Conventional melon wisdom – buy a heavy, hollow-sounding one – never helps me. Maybe I have a bad ear, but watermelon-thumping leaves me confused. And melons all seem pretty heavy, so gauging relative weight never gives me confidence either. I rely on visual clues for watermelons and a mix of look and scent for thinner-skinned melons like honeydew and cantaloupe.
Watermelon
Dull rind – Watermelons turn from shiny to dull as they ripen.
Field spot – A yellow or creamy underside indicates the watermelon ripened on the vine.
Rough tracks – My mom, melon-picker extraordinaire, swears that rough brown/tan scars on an otherwise smooth and firm melon indicate sweetness. I don't know what causes them (they are sometimes called bee stings, though it would take some giant stinger to make it through a watermelon rind), but my mom's record of supersweet, well-scarred melons has made me a believer.
Here's a yellow field spot: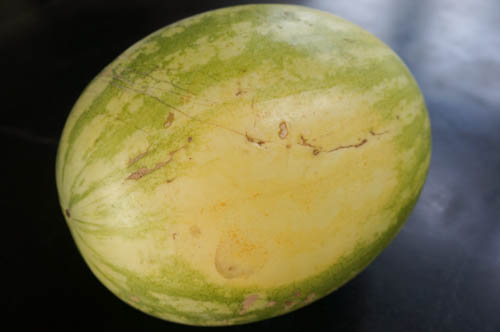 The ultimate sign of a good watermelon is when I stick my knife in and the whole melon cracks wide open. This almost never happens, so when it does, it's like winning the melon jackpot.
Honeydew
Waxy rind – Ripe honeydews have a smooth, tacky feel, while underripe melons have a light fuzz.
Creamy yellow – Honeydews get more yellow and less green as they ripen.
Rough tracks – The more, the better. Tracks on a honeydew are beige/tan.
Stem end – The smell test works better on a cantaloupe, but the stem end of a ripe honeydew should also have a sweet fragrance. Also if you push the stem end and feel a bit of give, that's also a good sign.
Honeydew melons get softer and juicer with time, so you can leave them out at room temperature until ready to eat. The melon should get more fragrant as it softens, but if you wait too long the flesh turns transparent and nearly dissolves into juice.
Cantaloupe
No stem – Cantaloupes naturally separate from their stems when ripe, so a stem attached indicates the cantaloupe was cut off before ripe.
Gold color – Skin under the netting should have an underlying gold/orange tone, not green.
Surface – A ripe cantaloupe will have an even, raised tan netting texture over the surface. Cantaloupes continue to soften after picking, and a dented surface indicates the melon is overripe.
Fragrance – A ripe cantaloupe should have a perfumey sweet smell – fresh and not moldy. Cantaloupes also become more fragrant as they soften, but if you see the surface becoming dented, the melon is getting overripe and should be cut and eaten or refrigerated.
Giveaway winners
Thank you all for your wonderful comments – it is such a joy to hear from you. I've been limping along a little here in year 4 with the house and the move, but I am really energized for year 5. Thanks for hanging in here with me!
The random winners for my 4th anniversary giveaways are Misscali (#29), Marie (#16), Kathy (#18) and the one and only molly yeh (#27 – yeh!). Congratulations to all – happy shopping with your Amazon gift certificates!