Sometimes you have to listen hard to hear the universe whispering, and other times it pokes you so persistently you want to tell it to calm down already, you got the message.
Christmas cookies aren't normally in my December lineup – holiday sweets are everywhere already, and Santa doesn't have time to bake, for Pete's sake – but driving in my car Friday I had a sudden memory of my favorite cookie: a melt-in-your-mouth cloud of powdered sugar, hiding a tender, buttery shortbread nugget with the fine crunch of nuts. In California I've always known these as Mexican wedding cookies, but I've also heard them called Italian wedding cookies, Russian tea cakes or snowballs.
Saturday morning I woke up to an email from my friend Jojo in Munich, with a picture attached: crescent-shaped holiday cookies, covered with powdered sugar. A Bavarian Christmas tradition, Vanillekipferl are made with finely chopped almonds instead of the pecans used in Mexican wedding cookies. Some Vanillekipferl recipes include egg, but I love the crumbly soft texture of Mexican wedding cookies, which only have butter, flour and powdered sugar. I smiled and took out butter to soften.
I hadn't made the cookies in years, so I tried a few versions to compare, testing out almonds, pecans and walnuts. It's hard to go wrong with butter and powdered sugar. I found it impossible to pick a favorite.
Over the weekend I read through The Pollan Family Table – a cookbook released this fall featuring fresh, uncomplicated family food – which in an unusual move last week I'd agreed to review here. I'm a sucker for healthful home cooking, and cooking for big families is my jam. It's also the Pollan family, which includes food luminary Michael Pollan, actor Tracy Pollan, two more sisters and their mom, former New York magazine writer Corky Pollan. A family of food lovers and writers? I couldn't say no.
When I got to the desserts chapter Monday morning, I had to laugh when I flipped to "Isaac's Mexican wedding cookies": a take by Michael Pollan's son on the traditional recipe, but with the powdered sugar coating spiced with cinnamon, cardamom and nutmeg.
It seems a bit unfair to single out a dessert to represent the Pollan family collection, when the book in general is health-conscious in a relaxed, real-food kind of way. But once I tried the subtle tingle of the spiced cookie, festive and unexpected, I knew it was the recipe I had to share with you here.
This is a fast and easy cookie, just butter, powdered sugar, vanilla, nuts and flour.
After a weekend of wedding cookie testing, I could only stomach a half recipe Monday. Small quantities get stuck in the beaters of a mixer, so here it worked just as well to cream the butter and sugar by hand. I also figured a little arm workout couldn't hurt after my weekend of cookie tasting.
Add ground nuts and mix in well. If you're using an electric mixer it's best to add nuts last by hand.
Once I incorporated the flour, the fork didn't work as well for mixing. So I switched to a spoon, which is better for pressing the dough together.
A few beats with a little pressure, and the dough was ready to go. Some recipes recommend refrigerating first, which for some cookies is a necessary step. But I've found refrigeration unnecessary with these cookies, unless your ambient room temperature is warm enough to make the dough inconveniently sticky.
These are crumbly cookies, so it's best to keep them bite-sized. The dough is firm and not very sticky, so it's easy to form chubby disks (or a gently flattened ball) about 1 inch wide. They don't spread as they bake, so an inch in between is fine.
When I went to prep the spiced powdered sugar while the cookies were baking, I realized I only had whole cardamom, not ground. So I enlisted a bowl and the wooden handle of my citrus reamer as a makeshift mortar and pestle. Inside the papery green cardamom pod are tiny black seeds.
Fresh ground cardamom smells amazing, spicy-sweet like chai. And yes, this cardamom is from Fairway, and I haven't lived in New York City since before 9/11. But I'm here to tell the spice police that the whole cardamom pods are just fine, and the seeds when ground still seem fresh and extremely aromatic.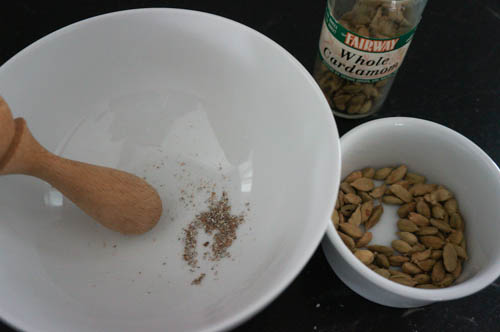 Cinnamon and nutmeg join the cardamom, along with powdered sugar. Cinnamon is sometimes found in the traditional Mexican cookie, but it's the cardamom here that really gets me.
These cookies look almost the same after baking as they did before. For the softest texture, I like to cook them just until they're set – by the time they brown at all, they are overbaked. They'll still taste great, but the cookie will be firmer.
You can break one open to check doneness – a fully baked cookie will have crumbs without dense doughiness inside. With no egg in the dough, you don't have to worry about any health risks with underbaking.
While the cookies are still warm (they only take a few minutes to cool enough), take a few at a time and gently turn them in the spiced powdered sugar.
Residual steam will melt some of the sugar into the cookie. When the cookies are fully cooled, you can run them through the powdered sugar one more time for a more perfect-looking finish. The second coating is strictly cosmetic; the thicker first coating already provides the melt-in-your-mouth sensation.
The cookies don't take on much more sugar the second time around – just enough to cover any steam-moistened spots from the first time.
Christmas cookies are now on my December calendar for good. Thanks to the universe – via the voice in my head, and Jojo, and Isaac Pollan – for bringing my favorite cookie back to me, in a new favorite way. What took you so long?
* * *
Giveaway!
I have a copy of The Pollan Family Table to give away to one of you hardworking elves out there! You will love it – it's a very usable, clean format with bright photography, in the style of the Barefoot Contessa cookbooks, and the unfussy recipes are designed for busy family cooks.
Leave a comment here to enter, and let me know your favorite holiday (or non-holiday) cookie. I'll pick a winner Sunday night, December 21.
I'm excited to have some new inspiration for family cooking – my creativity is sucked dry this time of year. I hope to try out some ideas during my holidays in Ohio so I can share back here.
In the meantime, here are some of my holiday-season standbys:
Spiced Mexican Wedding Cookies
This buttery nugget, cushioned in a melt-in-your-mouth layer of powdered sugar, is a favorite around the world, also known by the names Italian wedding cookie, Russian tea cake or snowball. This sweetly spiced version is adapted from The Pollan Family Table.
Cookie ingredients
1/2 pound (2 sticks) butter, softened at room temperature
1/2 cup powdered sugar
2 teaspoons vanilla extract
2 cups all-purpose flour
1/2 teaspoon kosher salt (omit if using salted butter)
1 cup finely chopped nuts (pecans, walnuts and almonds are all great)
Powdered sugar coating
1 cup powdered sugar
1/2 teaspoon ground cinnamon
1/4 teaspoon ground cardamom
1/4 teaspoon ground nutmeg
Preparation
Preheat oven to 350 degrees F.
Put softened butter and 1/2 cup powdered sugar in a mixing bowl. Beat until light and fluffy, mixing in vanilla and salt. Add flour in batches, mixing well. Stir in the nuts by hand.
Form spoonfuls of dough into a small ball and flatten slightly (use enough dough to form a chubby disk that is about 1 inch across when flattened). Place on ungreased baking sheet about 1 inch apart (the cookies do not spread much as they bake).
Bake until the cookies are set but not at all browned, 12-14 minutes. The cookies will be more tender if they are not overbaked. You can break one open to check doneness – a fully baked cookie will have crumbs without dense doughiness inside. With no egg in the dough, you don't have to worry about any health risks with underbaking.
While the cookies bake, mix in a small bowl 1 cup of powdered sugar with the cinnamon, cardamom and nutmeg.
While the cookies are still warm (they only take a few minutes to cool enough), take a few at a time and gently turn them in the spiced powdered sugar.
For a more perfect-looking finish, you can run them through the powdered sugar one more time when the cookies are fully cooled.
Makes about 4 dozen cookies.
Notes
You can really use any type of nut you like here; just make sure they are chopped finely, or the dough may not hold together as well.
If your ambient room temperature is warm enough that the dough is inconveniently sticky to handle, refrigerate it for 20 minutes (or more) for easier handling. Make sure the dough is covered in the refrigerator so it doesn't dry out.
Here's the link to a printable version.