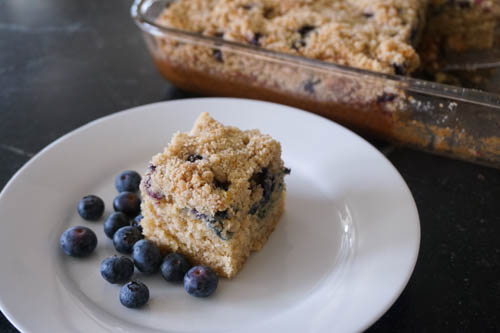 Oprah Winfrey may eat this coffee cake. Right now, she might be at her Santa Barbara home, sitting on her shaded patio with a big mug of hot coffee and a square of this coffee cake, dotted with sweet pops of blueberry and scented with Meyer lemon just picked from her yard.
How great to have a private chef, Oprah muses as she looks out over her sunny yard and the vast Pacific Ocean beyond, so I can have reliably great coffee cake, moist and springy, topped with that sweet crumb topping I like so much. Yes, she thinks, forking another bite of warm cake. It's good to be me.
Has Oprah really had this coffee cake? I can't say for sure. What I do know is that my great friend Kathleen gave me this recipe, which came from her friend, who through some connection got the recipe from Oprah's private chef.
I just like thinking about Oprah and I both eating this coffee cake. And I can tell you for sure that it's Oprah-worthy.
Coffee cake is a funny concept in America. Apparently coffee cake in sensible Britain is a sponge cake with coffee icing. Here there's nothing coffee about coffee cake, except it's served in the morning when you are likely to be drinking it.
The distinguishing mark of American coffee cake seems to be streusel – that lovely crumbly mix of flour, sugar, butter and often cinnamon – which is either scattered on top on the cake or melts into it, like pockets of spiced sweetness. Sometimes nuts are involved, sometimes a bit of fruit.
This is a coffee cake for crumb lovers. The streusel stays put on top, giving a sugary crunch with every bite.
The original recipe from Kathleen is for a lemon coffee cake. I love blueberries with it, but you could also mix it up with orange and walnut, or nutmeg and chopped apple. I've made it plain too, but even my boring kid eaters like the lemon-blueberry better.
Only in Silicon Valley are round Meyer lemons more common than the standard pointed-end variety. Every other yard around here seems to have a legacy Meyer lemon tree from our orchard past, and people are very generous about sharing their bounty with friends and neighbors.
Start with zest from one lemon. Don't stress about the amount; it's just an accent. Meyer lemon zest is bright orange, and the scent is sweeter than regular lemons.
Zest goes into the bowl with flour, white sugar, brown sugar and cinnamon.
Add oil and lemon juice. You could melt butter instead of the oil, but oil is easy.
Mix together until all the dry flour is incorporated.
The mixture will look like wet sand with clumps. Set some aside for the topping.
Now some chemistry fun. Plain yogurt (or sour cream), egg, vanilla, baking powder and baking soda.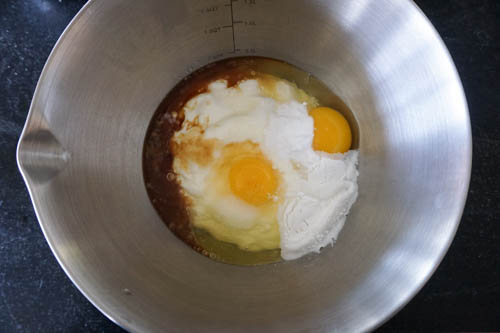 This mixture foams up as the acidity of the yogurt activates the leavening agents in the baking powder and soda.
Wet mixture into the crumbs.
Mix it in. An electric mixer makes it a bit easier.
Pour into a buttered baking dish and top with blueberries. (This 9″x13″ is a bigger version than the 8″x8″ base recipe; larger proportions are in the recipe notes.)
Sprinkle reserved crumbs evenly.
And bake.
You can make it a full-on brunch with an egg, spinach and feta strata.
Or not. With a hot pot of coffee or tea, no one is going to ask for eggs if they can start the day with warm cake. Tell them this is just how Oprah likes it.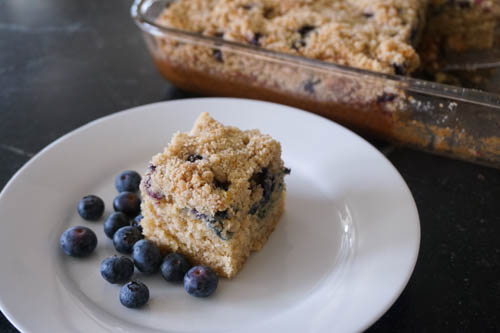 Lemon Blueberry Coffee Cake with Crumb Topping
This recipe may be a link in my six degrees of separation from Oprah Winfrey. It comes via my great friend Kathleen, by way of Kathleen's friend who has some connection to Oprah Winfrey's private chef. Who knows? All I can tell you is that this moist coffee cake with a classic crumb topping is good enough for Oprah, or anyone else lucky enough to be around when this is warm out of the oven.
Ingredients
2 cups flour
1 cup sugar
1/2 cup brown sugar, firmly packed
Zest from 1 lemon (2-3 teaspoons)
3/4 teaspoon cinnamon
1/2 teaspoon salt
1/2 cup vegetable oil
2 tablespoons fresh lemon juice
1 cup plain yogurt or sour cream
1 large egg
1 teaspoon vanilla
1 teaspoon baking powder
1 teaspoon baking soda
1 cup blueberries (fresh or frozen)
Powdered sugar for dusting (optional)
Preparation
Preheat oven 325 degrees F.
Butter and flour a 8″ or 9″ square glass baking dish.
In a large mixing bowl, mix flour, sugars, lemon zest, cinnamon and salt.
Add oil and lemon juice. Mix until flour is fully incorporated into a crumbly texture like wet sand with clumps.
Remove 1 cup of the crumb mixture and set aside to use as the topping.
In a smaller bowl, combine plain yogurt or sour cream, egg, vanilla, baking powder and baking soda. This mixture will expand as the baking powder and soda react with the yogurt, so make sure the bowl has some extra room.
Add the yogurt mixture to the crumb mixture and beat with a mixer until smooth.
Spread batter into pan. Sprinkle blueberries evenly into batter and top with reserved 1 cup of crumb mixture.
Bake 45-50 minutes, until a toothpick inserted into the center comes out clean.
Cool and dust with powdered sugar.
Notes
Larger version (9″x13″ baking dish): Combine 3 cups flour, 1 1/2 cups sugar, 3/4 cups brown sugar, zest from 1 lemon, 1 teaspoon cinnamon, 3/4 teaspoon salt, 3/4 cup vegetable oil, 3 tablespoons lemon juice (reserve 1 1/2 cups of crumbs for topping). Separately mix 1 1/2 cups plain yogurt, 2 eggs, 1 1/2 teaspoon vanilla, 1 1/2 teaspoon baking powder, 1 1/2 teaspoon baking soda. Combine with crumb mixture. Spread into pan. Sprinkle 1 1/2 cups blueberries into batter and top with reserved 1 1/2 cups of crumb mixture.
No-lemon version: Skip the zest. Substitute orange juice, milk or extra oil for the lemon juice.
You could bake this at 350 degrees F (eg if you want to bake it with something else, like an egg strata). Cook time will be less – check it at 35-40 minutes.
Here's the link to a printable version.