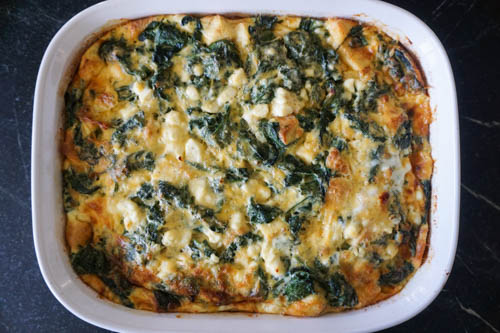 I love the luxury of brunch. Brunch implies a late wake-up and leisurely morning, the kind of carefree day that allows for booze before noon. None of this actually applies to my life as a parent of four kids. But when there's a holiday, guests in the house, or a rare weekend morning with friends coming over, I like the excuse to make a big late-morning meal and pretend I have a life that allows for the indulgence of brunch.
The standard-bearer of brunch in our family is my mother-in-law's egg, sausage and cheese strata, a gorgeous make-ahead casserole that provides a savory centerpiece for big family gatherings. Every Christmas Eve we quickly assemble a quadruple batch, stash it in the fridge overnight and bake it Christmas morning as family members casually roll in.
Last Christmas, my mother-in-law was skeptical when I suggested we try a vegetarian version with spinach and feta. But everyone loved it, traditionalists and meat-avoiders alike, so I thought I'd share it with you all for Easter. When you're having a mixed crowd of eaters, it's nice to have a built-in vegetarian option, and you can always supplement with bacon or sausage on the side.
Making strata is super easy. Theres no crust, like quiche, or whipping of eggs, like souffle. It's a lazy cook's egg dish for a crowd.
Some stratas are thick with bread, but this recipe has very little, giving it more of the soft, custardy consistency of a crustless quiche.
The basic foundation is simple: eggs, milk, a little bread, a lot of cheese, and spinach (fresh or frozen). I save bread crusts in the freezer for this, because I love finding a use for everything.
Fresh spinach needs a little cooking before it goes in the strata. It's crazy how a huge mountain of raw spinach cooks down to nothing.
Pro tip: you don't need to fit in all the spinach at the beginning, just add more as your first batch cooks down.
Don't cook the shrinking spinach down to oblivion; just until it wilts down. Then give it a good shake of salt and pepper.
Assembly is the fun part. Bread cubes in a buttered baking dish (this is a supersized version of the actual recipe, because we don't do small here).
Spinach goes over the bread cubes. If you're using frozen spinach (which is always blanched before freezing), you can just thaw it, squeeze out extra water and give it a little salt and pepper before this step.
Then cheddar and feta.
Whisk together eggs with salt, pepper and ground mustard.
Add milk.
Pour the egg mixture into the baking dish.
Cover it and refrigerate a few hours or overnight, giving the bread cubes time to soften.
The next morning, all you need to do is bake it. So easy.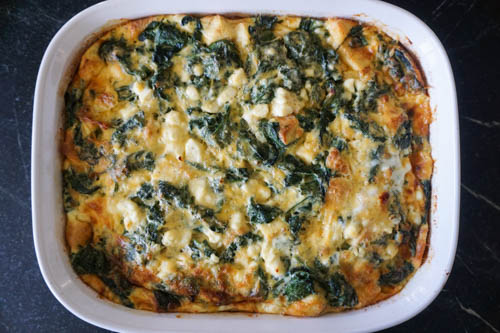 I threw some sausages into the oven with the strata during the last 15 minutes or so. And yes, I will be sharing that lovely coffee cake recipe very soon.
A delicious, nutritious Easter brunch, to balance out the candy you already ate. Happy spring!
Egg, Spinach and Feta Strata
Easier than a quiche or frittata, this beautifully golden make-ahead casserole frees you up to enjoy visiting with brunch guests. Some stratas are heavy on bread, but this one is more like a crustless quiche. Based on my my mother-in-law's egg, sausage and cheese strata, this meatless version is loved by vegetarians and omnivores alike.
Ingredients
1 pound fresh spinach (or 10 ounces frozen; whole or chopped)
1-2 tablespoons olive oil
Salt and pepper for seasoning spinach
3 slices bread, cubed (can use more for thicker casserole; this amount will give you a more custardy texture)
1 1/2 cups cheddar cheese, grated
1/2 cup crumbled feta cheese
9 eggs
3 cups milk
1 1/2 teaspoon ground mustard powder, mixed with 1 teaspoon water
1 teaspoon salt
1/2 teaspoon pepper, or to taste
Directions
Spinach prep: If using fresh spinach, wash spinach leaves in a colander and shake well to remove excess water. Heat olive oil in a large skillet on medium heat. Add spinach leaves and cook briefly, just until leaves are wilted. Drain out excess liquid. If using frozen spinach, thaw completely and squeeze out excess water (it's blanched before freezing, so you don't have to cook it). Season spinach with a good shake of salt and pepper.
In large bowl, beat eggs with salt, pepper and ground mustard.
Add milk; mix well.
Butter a 9″x11″ (3-quart) baking dish.
Add bread cubes evenly in baking dish.
Arrange spinach evenly over bread cubes.
Sprinkle cheddar and feta over spinach.
Pour egg mixture into baking dish. Poke down any floating bread cubes to make sure egg mixture gets absorbed.
Cover baking dish and refrigerate overnight (or a few hours).
Remove strata from refrigerator 30 minutes before baking. Preheat oven to 350 degrees F.
Bake strata for 50-60 minutes, until browned on top, not jiggly in the center, and knife inserted in center comes out clean (if in doubt, bake a few minutes longer). Let stand 10 minutes before serving. The strata will be puffy when it comes out of the oven and settles down as it cools.
Serves 6-8 adults.
Notes
Optional add in step 1: 1/2 cup onion and/or 1-2 cloves garlic; cook in skillet with olive oil until softened, then add spinach.
Substitutions: Feel free to substitute other cheeses (you could also add more than 2 cups total if you like, but I wouldn't recommend less). Don't stress about the specific amount of spinach, a little more or less is fine too. If you don't have mustard powder, it's fine to leave it out.
Like quiche and frittata, this egg dish takes well to all kinds of meat or vegetable fillings, so feel free to get creative. The important thing is to make sure vegetables are cooked/sauteed first, and that any meat that requires precooking, eg bacon or sausage, is browned and drained first.
Here's the link to a printable version.