Back in 1999, when brussels sprouts were far from cool, San Francisco chef Gordon Drysdale put on the menu of his new restaurant a salad made of brussels sprouts leaves, briefly sauteed in olive oil and tossed with bacon, caramelized onions, hard-boiled egg and a red wine vinaigrette – and immediately obliterated the childhood memories of boiled brussels sprouts for legions of instant converts.
The brussels sprouts-bacon combo is everywhere these days, but at least in the Bay Area we need to credit Drysdale for spreading the good word back when Brooklyn was still industrial urban jungle and kale was merely perky decor at tired salad bars. His original restaurant, Gordon's House of Fine Eats, opened during the bubbly internet days and closed after the crash. But Drysdale resurrected the salad at Pizza Antica, where it still endures even though he has moved on.
The salad in its original form makes for great restaurant eating, warm and crisp. But at home you'd never sit and pluck every leaf off every brussels sprout (though my crazy-energetic friend Lisa has done this). And if you don't eat it right away, the individual leaves become a soggy wilted pile.
For home cooks, roasting is the way to go. Brussels sprouts get browned and crisp outside, soft and creamy inside. And you can make a whole bunch at once, with virtually no effort. Rustle up some shallots and bacon (throw it in the same oven!), and all that's left is to toss it all together.
A half-sheet pan will fit 2 to 2 1/2 pounds of brussels sprouts. Halve them if small or quarter them if large.
You don't need the croutons at Thanksgiving. But they are very good in the salad when you don't have bread stuffing alongside.
I didn't need to make all this bacon. But I figured I might as well – two pounds of bacon doesn't make it through one meal with my crew of salt fiends.
The hard part: not snacking on all this before it's time to assemble the salad.
Beautifully browned brussels sprouts: check. The loose crispy leaves are the cook's reward – eat them while they are still hot and crunchy.
You can use shallots, or garlic; both, or neither. Soaking minced shallots or garlic in vinegar first takes some edge off. Thyme provides a holiday note.
But if you prefer a less-enduring bite, you can put the shallots in a covered ramekin and tuck it in the oven with the brussels sprouts.
Scrape the sprouts into a bowl and toss with shallots and a bit of vinegar before adding bacon.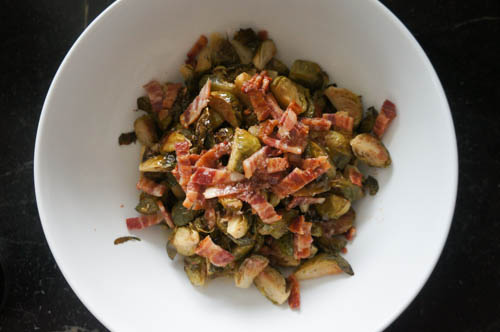 Fresh croutons are great when you aren't eating this alongside bread stuffing.
You can make a good vegetarian version with hard-boiled egg. Here I have toasted pecans.
But once you know about the bacon, it's hard to do without the salt. Some shavings of good Parmesan will do the trick.
I'm excited to have our first Thanksgiving in the new kitchen, and I think this Mark Ronson/Bruno Mars groove is single-handedly going to get me through holiday season. Super fresh, and clean for the kids, for once.
Happy Thanksgiving, everyone!
From the archives
Roasted Brussels Sprouts Salad
You can cook everything in this salad in the oven – brussels sprouts, shallots, bacon and croutons – and just toss it all together in the end. Inspired by the salad of sauteed brussels sprouts leaves at Pizza Antica, simplified for those of us who don't have kitchen staff to pull off each leaf of each sprout.
Ingredients
2 pounds brussels sprouts
3 tablespoons olive oil (plus additional for croutons, if making)
1 teaspoon Diamond Crystal kosher salt (2/3 teaspoon Mortons kosher salt, or 1/2 teaspoon table salt)
1/2 teaspoon black pepper
1 shallot, minced (plus 1 tablespoon olive oil)
3/4 teaspoon dried thyme leaves (or 2 teaspoons fresh)
1/2 pound bacon
Cubed bread for croutons (optional)
2 tablespoons red wine or balsamic vinegar
Preparation
Preheat oven to 400 degrees F.
Trim the cut ends off the brussels sprouts. Stand each brussels sprout on its trimmed end and cut in half (if small) or quarters (if large). Add cut sprouts to a large bowl with any loose leaves that fall off during trimming.
Mix brussels sprouts with olive oil, thyme, salt and pepper and spread into single layer on a rimmed baking sheet. Roast in oven for 40-50 minutes, depending on size, until brussels sprouts are browned and outer layers crisp.
While brussels sprouts roast, cook bacon and shallots. Oven method: In a small ovenproof bowl, mix minced shallot, 1 tablespoon olive oil, thyme and a sprinkling of salt and pepper; cover with foil and place in oven. Lay bacon slices in another rimmed baking sheet and put on a separate tray in the oven for 15-20 minutes (watch carefully as time gets close, and also take shallots out of oven when bacon is done); remove bacon slices to a paper towel and cut into 1/2-inch pieces. Stovetop method: In a skillet on low heat, add 1 tablespoon of olive oil and minced shallots; heat gently until translucent then remove shallots to a bowl and set aside. Cut bacon into 1/2-inch pieces and cook in skillet on medium heat, stirring occasionally, until crisp. Transfer bacon pieces to a paper towel to drain.
To make croutons, drizzle cubed bread with olive oil and sprinkle with salt and pepper. Toss well to coat, and bake in a single layer on a baking sheet, or in skillet on medium heat, until golden (about 10 minutes in oven). Stovetop croutons will require turning to brown evenly.
Scrape warm brussels sprouts into a large bowl. Mix vinegar with shallots and pour over brussels sprouts. Mix well and add salt and pepper to taste. Add bacon and croutons and mix gently. Serve warm.
Serves 6-8.
Notes
Options: add hard-boiled eggs, toasted pecans and/or shaved Parmesan in addition to or instead of bacon.
For a stronger shallot flavor, don't cook the shallots. Instead add vinegar to minced shallots, with a good pinch of salt and pepper, and let the shallots soak while you cook the brussels sprouts. When ready to finish the salad, add one tablespoon of olive oil to the shallots. Pour the shallot mixture over the brussels sprouts and mix well before adding bacon and croutons to finish.
If you don't have shallots: use onion, or a clove of garlic, or skip both and add more bacon.
Make ahead: you can cook the brussels sprouts, shallots, bacon and croutons a few hours ahead of time and then toss them together with the vinegar just before serving. The brussels sprouts will lose their crispness but still taste great.
Here's the link to a printable version.